Salesforce Website Integration Simplified 101
Do you want to get your Website information automatically into your Salesforce CRM? Then, all you need is to understand the Salesforce Website Integration. Salesforce is the number one Customer Relationship Management tool. Salesforce holds all the details of the customers. Instead of manual entry of these customer details from websites, Salesforce Website Integration automated this process. By Salesforce Website Integration, you can directly store all your customer details from websites in your Salesforce CRM. This will provide you interesting insights about your customer purchasing behaviours, triggers to retain your customers, create a trustworthy environment for your customers, and many more.
In this blog, you will be introduced to Salesforce and its key features. You will understand the purpose behind the Salesforce Website Integration. The different ways of Salesforce Website Integration are discussed. One method of Salesforce Website Integration is elaborated with steps. The connection requirements and benefits of Salesforce Website Integration are add-ons.
Table of contents
Introduction to Salesforce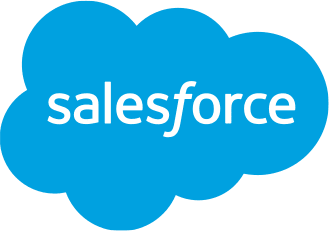 Salesforce is a cloud-based Customer Relationship Management (CRM) tool that is designed to support companies in managing their Sales and Customer related data. You can use the Salesforce CRM without any technical background as it is easy to set up and manage. It has redefined the relationship between businesses and their customers by developing a more meaningful connection between them. By providing a single view for each of your client interactions, Salesforce CRM can give you unique insights into the customer's journey and at the same time empower you with tools that can enhance your customers' experience.
Also, Salesforce is Cloud-based, which implies that it can provide high flexibility and scalability to its users. Salesforce is the ultimate solution for your business as it provides all the necessary elements for your business on an automation platform with embedded intelligence.
Key Features of Salesforce
Salesforce is one of the most widely used CRM tools and the following features are responsible for its immense popularity:
Ease of Setup: Unlike other CRMs, which on average take up to nearly a year to get installed and deployed, Salesforce can be set up from scratch and be deploy ready within few weeks only.
Straightforward: Businesses don't have to spend much time training their employees for using this CRM. It is quite straightforward and does not require much training or technical experience.
Customizable: Salesforce's specialty lies in the customization that it offers. Users can customize this CRM tool according to their business requirements. This particular feature plays a huge role in Salesforce's immense popularity.
Account Planning: Salesforce supplies you with enough insights about each Lead so that your Sales Team can tailor-make their approach for every potential Lead. This will surely increase their probability of success and the customer will also get a personalized experience.
Accessibility: Salesforce being a Cloud-based software, is accessible from all remote locations if you have a working internet connection. Moreover, Salesforce offers an application for mobile phones thus making it super convenient for the users.
Purpose of Salesforce Website Integration
Salesforce Website Integration enhances your productivity and boosts your results. This Salesforce Website Integration allows you to capture the user data from the website and store it in your Salesforce CRM. The main purpose of Salesforce Website Integrations for e-commerce sites is to understand and track customer behavioral patterns. You can plan the triggers to attract and pull customers to purchase your product from your e-commerce sites.
Salesforce Website Integration will leverage your business and establish a trustworthy relationship with your customers. You can gather all your customer information in one place. A complete overview of your customer and their habits will help you plan more effectively. You can provide better services to your customers depending upon their habits and practices.
Simplify Data Analysis Using Hevo's No-code Data Pipeline
Hevo Data helps you directly transfer data from Salesforce for free, and 100+ other data sources (including 30+ free sources) to Business Intelligence tools, Data Warehouses, or a destination of your choice in a completely hassle-free & automated manner. Hevo is fully managed and completely automates the process of not only loading data from your desired source but also enriching the data and transforming it into an analysis-ready form without having to write a single line of code. Its fault-tolerant architecture ensures that the data is handled in a secure, consistent manner with zero data loss.
Hevo takes care of all your data preprocessing needs required to set up the integration and lets you focus on key business activities and draw a much powerful insight on how to generate more leads, retain customers, and take your business to new heights of profitability. It provides a consistent & reliable solution to manage data in real-time and always have analysis-ready data in your desired destination.
Get Started with Hevo for Free
Check out what makes Hevo amazing:
Real-Time Data Transfer: Hevo with its strong Integration with 100+ Sources (including 30+ Free Sources), allows you to transfer data quickly & efficiently. This ensures efficient utilization of bandwidth on both ends.
Data Transformation: It provides a simple interface to perfect, modify, and enrich the data you want to transfer.
Secure: Hevo has a fault-tolerant architecture that ensures that the data is handled in a secure, consistent manner with zero data loss.
Tremendous Connector Availability: Hevo houses a large variety of connectors and lets you bring in data from numerous Marketing & SaaS applications, databases, etc., such as HubSpot, Marketo, MongoDB, Oracle, Salesforce, Redshift, etc. in an integrated and analysis-ready form.
Simplicity: Using Hevo is easy and intuitive, ensuring that your data is exported in just a few clicks.
Completely Managed Platform: Hevo is fully managed. You need not invest time and effort to maintain or monitor the infrastructure involved in executing codes.
Live Support: The Hevo team is available round the clock to extend exceptional support to its customers through chat, email, and support calls.
Sign up here for a 14-Day Free Trial!
Ways of Salesforce Website Integration
There are various ways to integrate your Website into salesforce. Here are few ways in which Salesforce Website Integration can be possible.
Salesforce Website Integration: Web-to-Lead forms
This is the easiest way to connect your Website to Salesforce. This Salesforce function helps you to create an HTML contact form using the default or customized Salesforce fields. You must decide whether to leave the user on the same page where they are filling it, or to redirect the URL to another page.
Using the Web-to-Lead forms function generates code automatically based on your preferences. You need not be very proficient in programming, it is enough to just place it as a page on your Website. The entire process of forwarding the information from the submitted field is automated. The only drawback of this function is the absence of human verification. But you can overcome this by using Google Captcha via a snippet of Javascript code.
Salesforce Website Integration: Live Chat assistance
Salesforce Website Integration with live chat assistance will leverage your business by providing customers the right support at the perfect time needed. This service will be mostly used by companies who provide a 24/7 service like logistics and medicine.
To integrate live chat into your Salesforce website, you can utilize the Onmi-Channel feature. This feature connects clients from various websites or applications to your chat console at the customer support agent end. You can use Einstein Chatbot for collecting the primary data for better assistance. A combination of chatbot and human service will enhance the benefit of the live chat assistance integration in a Salesforce-powered Website.
Salesforce Website Integration: with Tracking
You can perform Salesforce Website Integration with an option for custom tracking on your website. You can transfer this tracking data to Salesforce using an API. With this facility, it is possible for you to track the number of products that your customer has checking on your website. This Salesforce Website integration can also view the login sessions to track the activity of your customer, based on which you can use the customer's primary information to plan personalized marketing promotions for them.
You can integrate content management websites like WordPress, Drupal and etc easily with Salesforce using some famous tools like Zapier, Gravity, and Brilliant Web-to-Lead Builder. All these tools will enable you to set yo the flow based on trigger actions, which will forward the data to your Salesforce based on your Salesforce database.
Salesforce Website Integration: Building Websites with Salesforce
You can also build the website directly with Salesforce, instead of integrating various functions one by one. This is the method explained in the steps below. You can use the Salesforce Site feature to create websites easily with pick and place tools. This does not require any additional third-party platforms or any additional profiles for visitors. You can manage all other permissions separately and the security of your CRM is left untouched. It is really simple to create pages with Javascript and PHP. You can customize the page colors, logos, style, and brand identity. The free domain name from Salesforce is an add-on.
You can also build the website directly with Salesforce, instead of integrating various functions one by one. This is the method explained in the steps below. You can use the Salesforce Site feature to create websites easily with pick and place tools. This does not require any additional third-party platforms or any additional profiles for visitors. You can manage all other permissions separately and the security of your CRM is left untouched. It is really simple to create pages with Javascript and PHP. You can customize the page colors, logos, style, and brand identity. The free domain name from Salesforce is an add-on.
Connection Requirement for Salesforce Website Integration
One connection requirement for Salesforce Website Integration is the developer API. the developer API requires technical knowledge to implement it. The practical applications of the developer API include,
This developer API provides you an option to download the linking files hosted in Salesforce's document management from the website.
The developer API creates a link between the customer website account and their Leads record in Salesforce.
It ensures consistency in pushing and pulling updates between the Website and Salesforce
This developer API collects email signups on the website.
Steps in Salesforce Website Integration
Step1: For Salesforce Website Integration, you must first create a website on the Force.com platform.
Step2: The next step is to Enable the Site. For this, you must login into your Salesforce account and enter Salesforce Sites in the Quick find bar.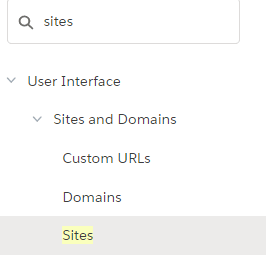 Step3: In the Salesforce Sites setup, enter the URL of the website that you want to integrate. Before this, Ensure the availability of the domain. The domain name should be in yourorganizationname.force.com format.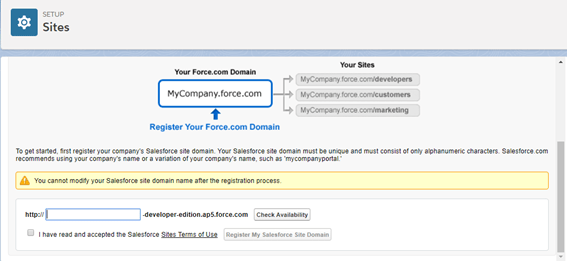 Step4: Once the domain name is available and you get the success message, select the 'Register My force.com Domain' to register your domain. If the domain name is not available, you must type the same again and repeat the process.

Step5: After enabling the site, the next process is to create a Site. You must create a site for the domain that you have registered in Salesforce. For this, select the Salesforce Sites option, and you can see the available force.com sites there. Now start adding contents like Site label, description, name, contact details, settings and etc to these domains. Finally, click on the Save button to save your changes.

Step6: The next step is to Configure the Data Access. For this type 'Organization-Wide Defaults' is in the box under set up. Configure the data access according to your need.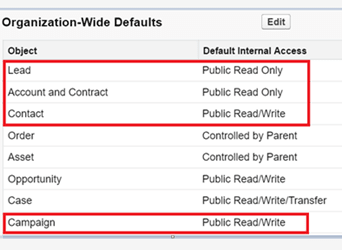 Step7: You must set the object permissions to end the process. Be careful while setting the profile object permissions.
Step8: The final step is to test and activate the site. For this, set the default time zone and activate your site to make it public.

After completing all these steps, try to access the URL from any browser to check if the integration is successful.
Benefits of Salesforce Website Integration
The benefits of Salesforce Website Integration include,
Collect entire customer data in one place: Salesforce Website integration helps you to collect the entire customer details and customer purchasing patterns in one place.
Improved Online Sales: You can improve your company's online sales by strategizing a personalized marketing plan based on customer details.
Customer Retention: You can identify triggers and retain your customers and gain their trust.
Produce powerful Insights: Salesforce Website integration gains you meaningful and managed reports. These insights will help you craft and structurize your decisions.
Enhanced Productivity: You can tackle the errors with manual entry of data by Salesforce Website integration. This enhances the overall productivity of your company.
Conclusion
From this blog, you would now appreciate the purpose of Salesforce Website Integration. You would have learnt about the steps and connection requirements in Salesforce Website Integration. You would have had a brief introduction about Salesforce and its key features. The different ways of Salesforce Website Integration will be clear now.
When you work with Hevo, you get this superpower to load your aggregated Data from various SaaS Applications and CRMs such as Salesforce (Free Source Connector with Hevo), HubSpot, Zendesk to Data Warehouses like Snowflake, Amazon Redshift Google BigQuery in a completely hassle-free & automated manner. 
Visit our Website to Explore Hevo
Would you like to take Hevo for a test?
Sign Up for a 14-day free trial and experience the feature-rich Hevo suite first hand. You can also have a look at the unbeatable pricing that will help you choose the right plan for your business needs.
And let us know your experience of learning about Salesforce Website Integration in the comments below. We would be delighted to hear from you!
No-code Data Pipeline for your Data Warehouse