Setting up Redshift Clusters: 5 Easy Steps
Do you want to set up Redshift clusters? Are you looking for a step-by-step solution to help you get started? Well, look no further! Follow our easy step-by-step guide that will help you set up your Redshift in no time! It will help you take charge in a hassle-free way without compromising efficiency. This blog aims at making the setup process as smooth as possible
Upon a complete walkthrough of the content, you will be to set up clusters for your Redshift instance with ease. Through this article, you will get a deep understanding of the tools and techniques being mentioned & thus, it will help you hone your skills further.
Table of Contents
Introduction to Redshift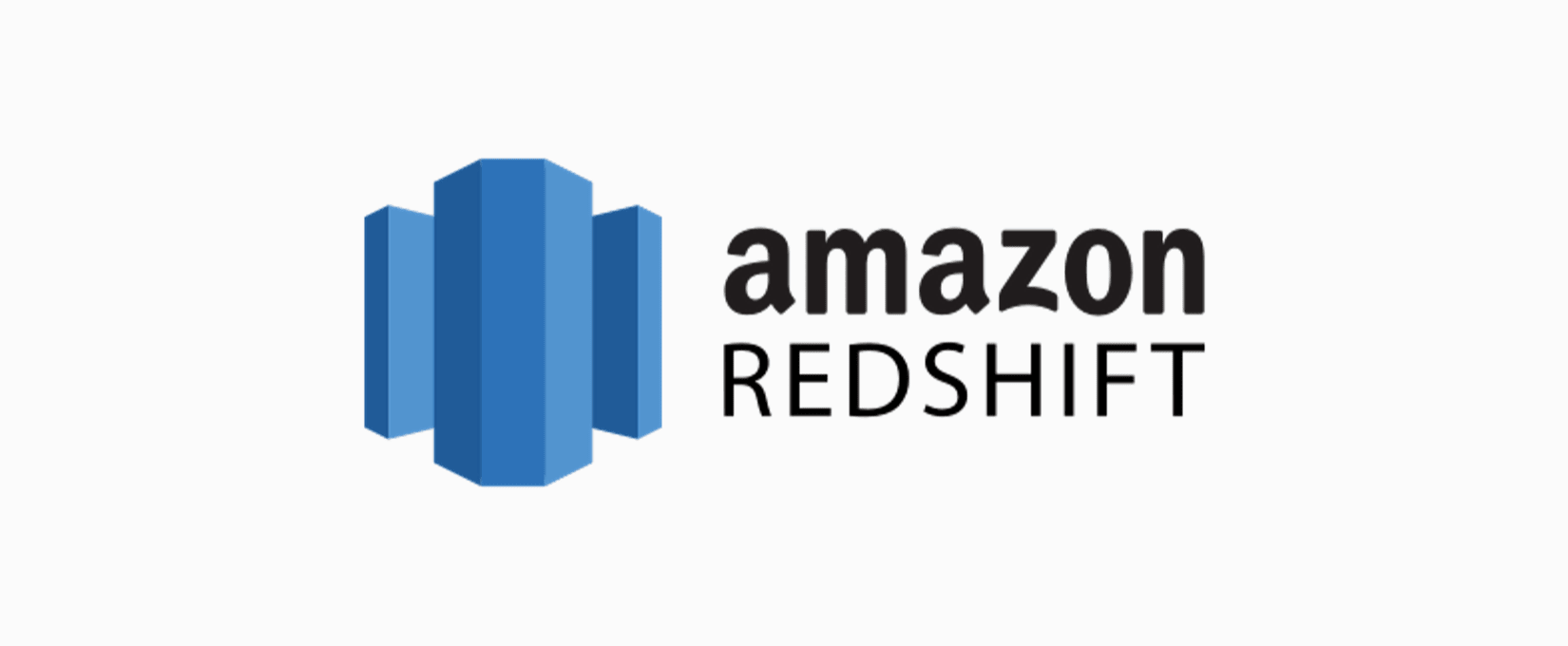 Amazon Redshift is a fully-managed petabyte-scale cloud-based data warehouse, designed to store large scale data sets and perform insightful analysis on them in real-time.
It is highly column-oriented & designed to connect with SQL-based clients and business intelligence tools, making data available to users in real-time. Supporting PostgreSQL 8, Redshift delivers exceptional performance and efficient querying. Each Amazon Redshift data warehouse contains a collection of computing resources (nodes) organized in a cluster, each having an engine and database of its own.
For further information on Amazon Redshift, you can check the official website here.
Simplify ETL with Hevo's No-code Data Pipelines
Hevo Data, a No-code Data Pipeline, helps to transfer data from 100+ sources to Redshift and visualize it in a BI Tool. Hevo is fully-managed and completely automates the process of not only loading data from your desired source but also enriching the data and transforming it into an analysis-ready form without having to write a single line of code. Its fault-tolerant architecture ensures that the data is handled in a secure, consistent manner with zero data loss.
It provides a consistent & reliable solution to manage data in real-time and always have analysis-ready data in your desired destination. It allows you to focus on key business needs and perform insightful analysis using various BI tools.
Check out what makes Hevo amazing:
Secure: Hevo has a fault-tolerant architecture that ensures that the data is handled in a secure, consistent manner with zero data loss.
Schema Management: Hevo takes away the tedious task of schema management & automatically detects schema of incoming data and maps it to the destination schema.
Minimal Learning: Hevo with its simple and interactive UI, is extremely simple for new customers to work on and perform operations.
Hevo Is Built To Scale: As the number of sources and the volume of your data grows, Hevo scales horizontally, handling millions of records per minute with very little latency.
Incremental Data Load: Hevo allows the transfer of data that has been modified in real-time. This ensures efficient utilization of bandwidth on both ends.
Live Support: The Hevo team is available round the clock to extend exceptional support to its customers through chat, email, and support calls.
Live Monitoring: Hevo allows you to monitor the data flow and check where your data is at a particular point in time.
Simplify your data analysis with Hevo today! Sign up here for a 14-day free trial!
Prerequisites
Working knowledge of AWS Redshift.
An active AWS account.
Steps to set up Redshift Clusters
Amazon Redshift allows users to create multiple clusters for their Redshift instance irrespective of whether they are using a free or paid tier to store their data. You can set up a cluster for your Redshift instance using the following steps:
Step 1: Signing in to AWS Redshift Console
To start setting up clusters in Redshift, go to the official AWS website and log in with your credentials such as username and password.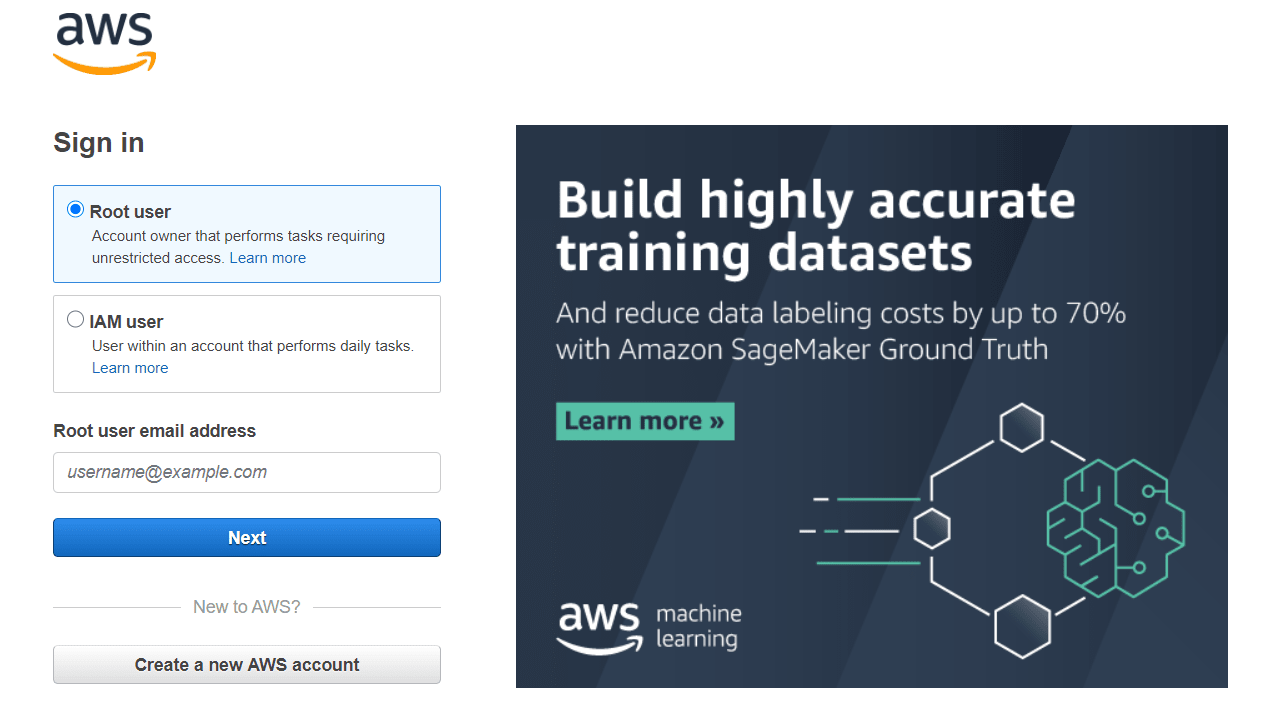 The AWS console will now open up on your screen as follows: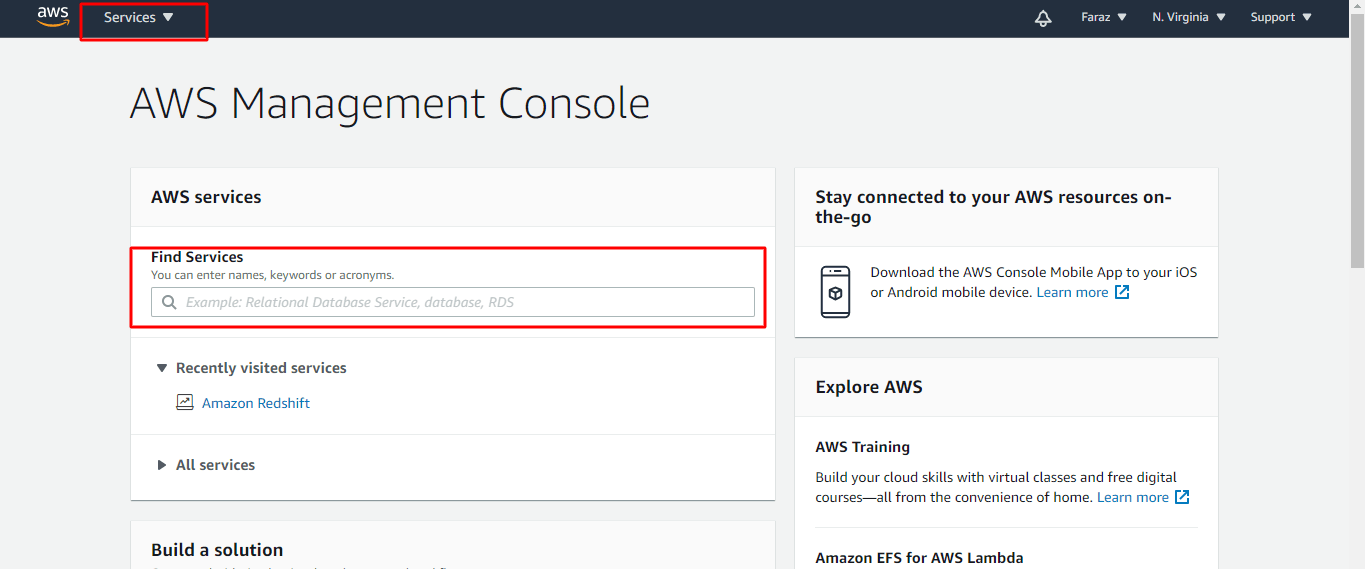 Step 2: Choosing your Desired Plan to Set up Redshift Clusters
Once you've logged in to the AWS console, click on the services option, found at the top of your screen and select Amazon Redshift. You can also directly search for Redshift using the find services search box and then select the Amazon Redshift option.

The Amazon Redshift home page will now open on your screen, where you can find all functionalities related to Redshift, listed vertically in the panel on the left.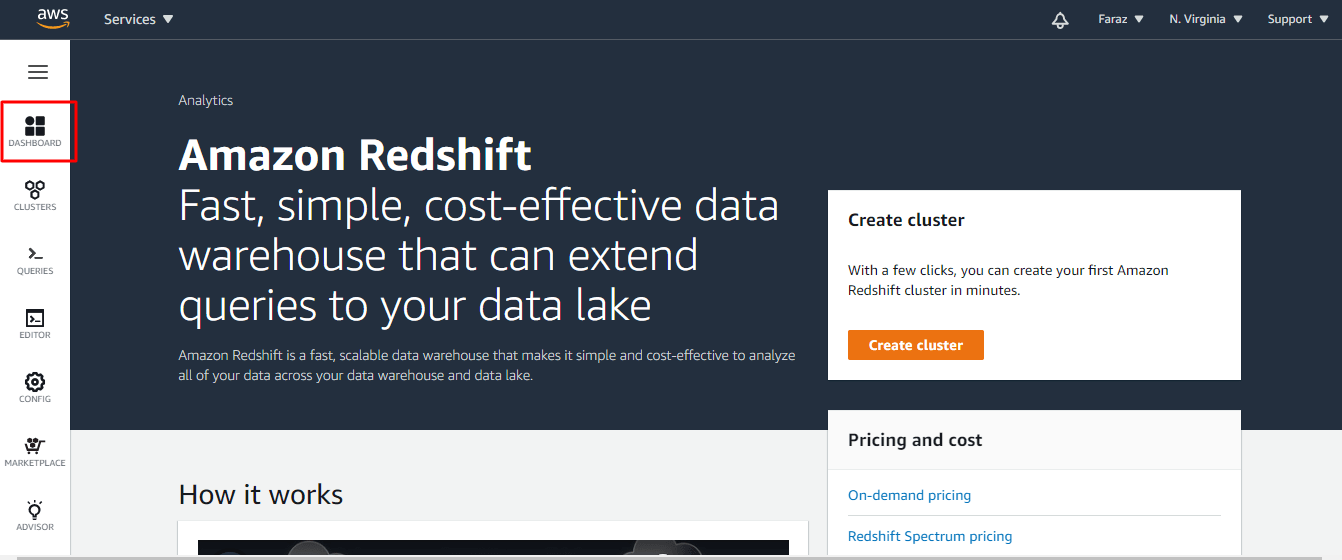 Click on the cluster option, found in the panel on the left. The cluster configurations window will now open on your screen. You can find and set the name of the cluster you're going to create using cluster identifier box. By default, the name of the cluster is "redshift-cluster-1", but you can modify it as per your need. Just below the cluster identifier box, you will find the option to choose your desired AWS plan for creating the cluster.
If you select the Production plan, you will have to choose between RA3 and DC2, which stands for Dense Compute Nodes. The AWS console will recommend you to use RA3 as it is the most advanced offering by Redshift, which provides a powerful compute and large storage capacity for all your Redshift nodes.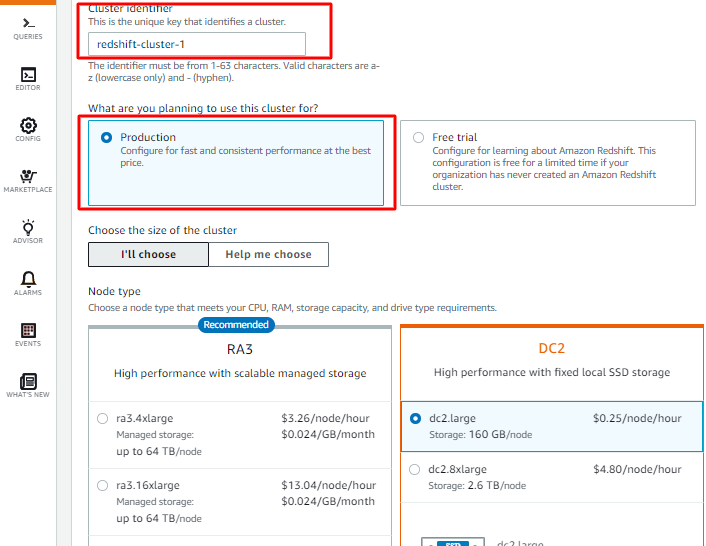 Out of RA3 and DC2, only the latter comes as a part of the free-tier and supports storing a moderate volume of data at a very affordable cost, thereby making it the perfect option for a new user.
Step 3: Configuring your Redshift Database
Once you've selected your desired plan and the storage type, you now need to configure your database. Use the default configurations, for now, and enter the name of your database as "dev" and the port value as 5439. To access and use your Redshift clusters, you need to define the master username and password. Use "awsuser" as your username and enter a password of your choice to set your credentials.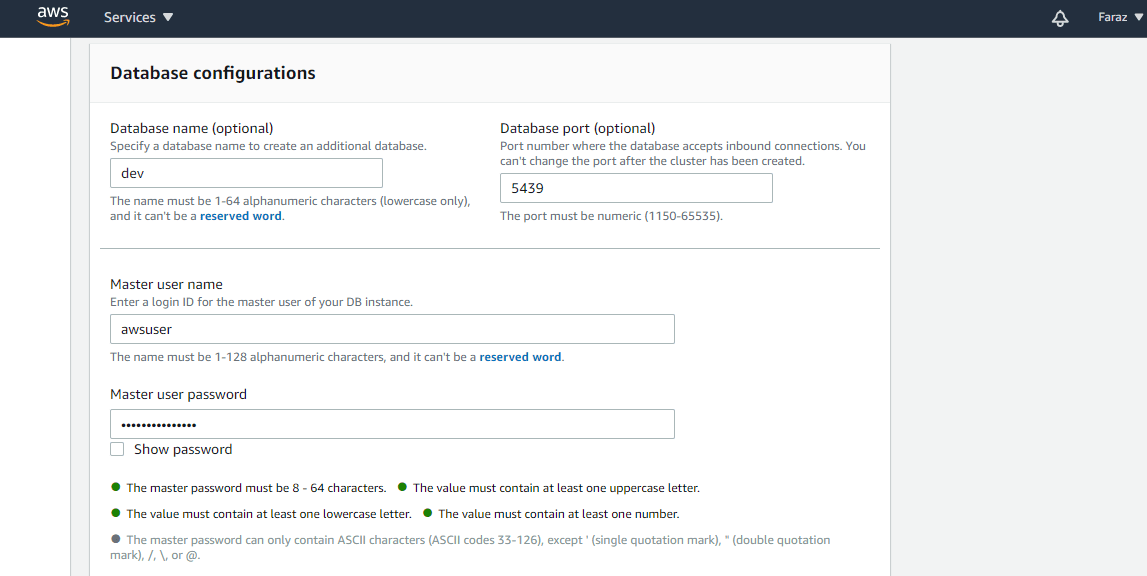 This is how you can configure your Redshift database for creating clusters.
Step 4: Configuring Cluster Permissions
Once you've configured your database, you now need to set up permissions for your cluster, that help specify the Identity & Access Management (IAM) roles. IAM roles allow Redshift clusters to communicate and integrate with other AWS services with ease. Setting up IAM is an optional step and can be done even after creating your Redshift cluster.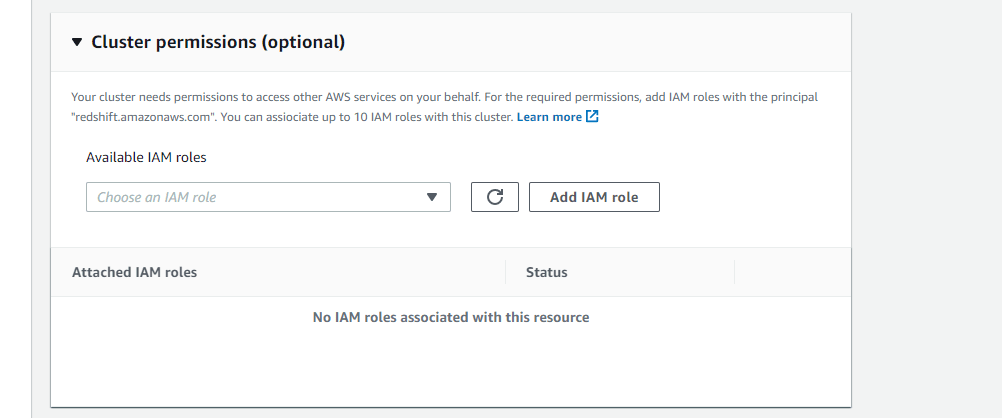 Apart from IAM, there are some additional configurations related to network, security, maintenance, etc. If you do not have any sensitive data stored in your cluster, you can use Redshift with open internet for a short period but is not recommended for production scenarios.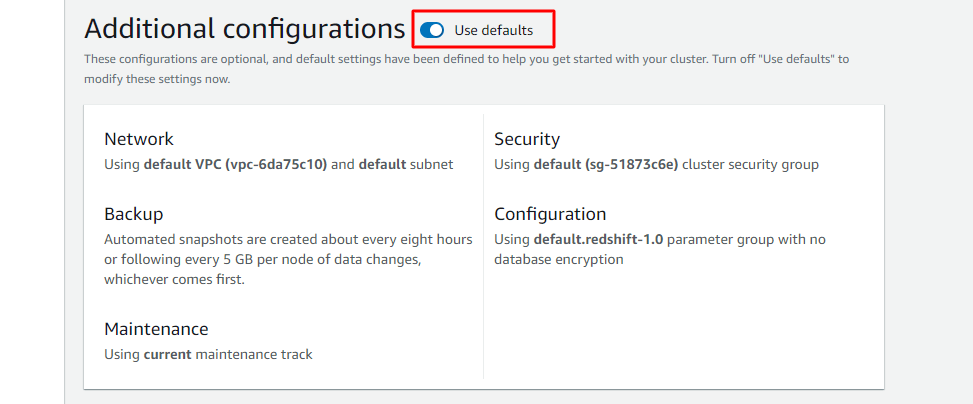 Click on the "click cluster" option. The status of your cluster will now change to modifying as follows:

Depending upon your cluster location and time zone, the status of your cluster will change to available:
This is how you can set up clusters in Redshift.
Step 5: Using your Redshift Cluster
Once you've set up your Redshift cluster, your Redshift dashboard will now display the number of active clusters as follows:

With your Redshift cluster ready, you can use the editor option, found in the panel on the left and fetch data using DDL and DML queries. To know more about the AWS query language, you can check the official documentation here.
You can also perform various other operations such as modify, delete, reboot, etc. on your Redshift Clusters.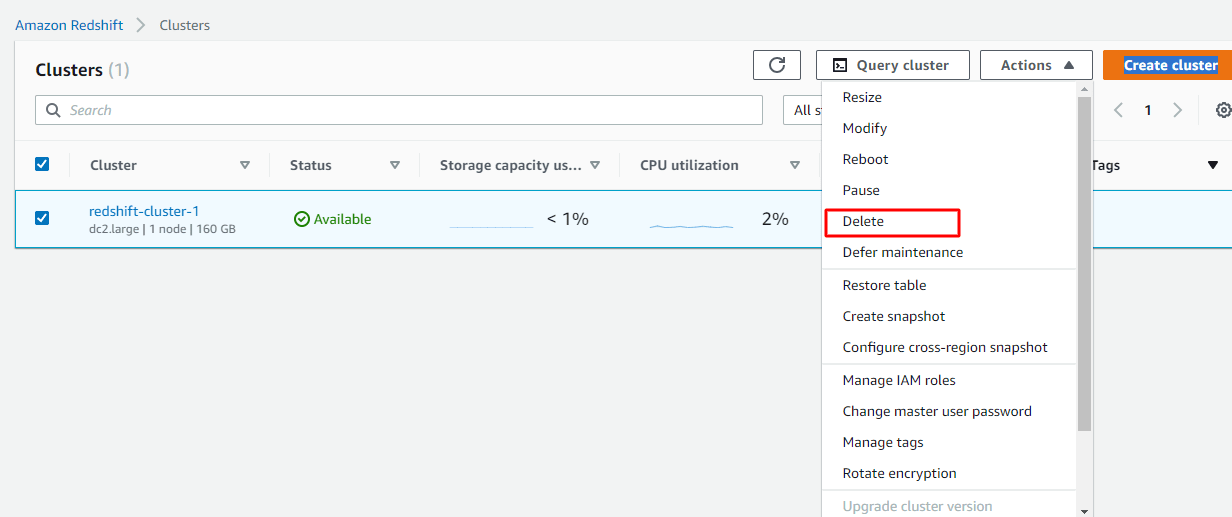 Conclusion
This article teaches you how to set up Redshift clusters with ease. It provides in-depth knowledge about the concepts behind every step to help you understand and implement them efficiently. These methods, however, can be challenging especially for a beginner & this is where Hevo saves the day. Hevo Data, a No-code Data Pipeline, helps you transfer data from a source of your choice in a fully-automated and secure manner without having to write the code repeatedly. Hevo, with its strong integration with 100+ sources & BI tools, allows you to not only export & load data but also transform & enrich your data & make it analysis-ready in a jiff.
Want to take Hevo for a spin? Sign up here for the 14-day free trial and experience the feature-rich Hevo suite first hand.
Tell us about your experience of setting up Redshift clusters! Share your thoughts in the comments section below!
No-code Data Pipeline For Redshift