Shopify Payout Reports: 7 Comprehensive Types
Shopify is a leading e-commerce platform that caters to a large number of sellers, from Small businesses in the field to medium-sized organizations. It allows sellers to sell products in various ways like online shopping, offline shopping, and selling through the point of sale through a car boot or garage. Since it offers high-level functionality it has gathered a large number of users.
Shopify offers various tools that would increase the efficiency of e-commerce and provides valuable Insights. Shopify collects large amounts of data from all the interactions and analyzes them to generate Shopify Reports and Shopify Payout Reports. The data is generated in abundant quantities and can be used to generate reports in pre-defined timelines or On-demand formats.
This article gives a comprehensive overview of Shopify and different types of Shopify Payout Reports.
Table of Contents
Introduction to Shopify
Shopify is a leading E-commerce platform that allows you to set up an online store and sell your products. It started in 2006 and was called the SnowDevil. It caters to a large audience whether you sell online, on social media, in-store, or out of the trunk of your car. Shopify is present in over 175 countries.
Shopify offers to sell different types of products:
Physical products: A physical product could be something that is handmade or something you have manufactured. Examples include jewelry, t-shirts, gift boxes, and many more.
Digital products: This could include ebooks, email templates, audio downloads, e-courses, or clothing patterns.
Services and consultations: You can offer your services and consultation on Shopify. For example, if you are a dentist, customers can book appointments using Shopify.
Memberships: you can use Shopify to sell your memberships and create member-only access to your content on your website.
Ticketed experiences: Experience-based businesses can range from travel and adventure to hands-on workshops on cooking or building. You can use Shopify to sell tickets for any event or Experience activity.
Classes and lessons: Customers can purchase, rent, and book lessons from you all through the online store.
Rentals: You can use the Shopify Platform to rent props, costumes, etc. Rental businesses are technically service-based, even though a physical product is involved.
Benefits of Using Shopify
Detailed Shopify Admin: You'll find a whole range of reports and features that help you understand how your online store is performing. You can view the number of orders, your best-performing product pages, real-time view of your website visitors. Shopify is a comprehensive tool for an online retailer, allowing you to get an in-depth understanding of all of your online store's details.
Free Features: Usually for a new website/store you would need to pay for the themes used. But on Shopify, a free theme is loaded onto your store automatically that you can start customizing the way you want. You even have the freedom to customize your website to suit your branding style. You can choose free fonts (already installed on your store), or modify the color scheme, add your photos, and more. There are also thousands of E-commerce-themed stock photos you can choose from taken by Shopify photographers that can also be used. The Shopify Payout Reports is also a free feature that lets you monitor the performance of the store.
Shopify is on a Cloud Network: Your website would be hosted on a cloud network instead of a server. Servers tend to crash at the wrong times and incur huge losses. Servers often crash on Black Friday or during big events. By being on a cloud network, the possibility of the website crashing is rare, allowing you to run your business with ease of mind. Being on a cloud network also allows for Google Search Console Integration seamlessly.
There's a Plan for Everyone: There are costs associated with running a business. You'll need to pay for Products, Marketing Costs, New Domain, and of course Shopify. But Shopify has a pricing plan for everyone. You can pay for Shopify Lite for only $9 a month if you are a beginner or on a tight budget. Shopify Plus is used for white-glove service. You can change the plans as your business grows. Each plan has a different Shopify Payout Reports support.
Tons of Apps: There's an app for almost everything in the Shopify App Store. You'll find Countdown Timers, Image Background Removers, and so much more. While there are a lot of paid apps, there's also a bunch of free apps in the store. Adding an app to your website isn't necessary.
Wide Range of Support: Shopify wants you to succeed on their platform. Shopify has a dedicated blog section that is run by experts to provide valuable tactics for businesses to run on Shopify. Shopify Academy/ Shopify Compass is a place where you can take free E-commerce courses and learn at your own pace. It has many customer support reps who will happily answer any questions you have. There are even Facebook Groups created by Shopify users who want to help new store owners succeed. The support ecosystem at Shopify is massive.
Low Barrier to Entry: Anyone can start a Shopify Store. Shopify is leading the initiative of lowering barriers to E-commerce.
Shopify is an E-commerce platform that helps you build your store both online and offline. This E-commerce website builder has features for everyone from beginners to E-commerce experts. It provides advanced tools like Shopify Payout Reports for maximum insights. Hence Shopify is a popular choice among E-commerce.
Simplify Data Analysis with Hevo's No-code Data Pipeline
Hevo Data, a No-code Data Pipeline helps to load data from any data source such as Shopify, Google Search Console, Databases, SaaS applications, Cloud Storage, SDKs, and Streaming Services and simplifies the ETL process. It supports 100+ data sources (including 30+ free data sources) and is a 3-step process by just selecting the data source, providing valid credentials, and choosing the destination. Hevo not only loads the data onto the desired Data Warehouse/destination but also enriches the data and transforms it into an analysis-ready form without having to write a single line of code.
GET STARTED WITH HEVO FOR FREE
Its completely automated pipeline offers data to be delivered in real-time without any loss from source to destination. Its fault-tolerant and scalable architecture ensure that the data is handled in a secure, consistent manner with zero data loss and supports different forms of data. The solutions provided are consistent and work with different BI tools as well.
Check out why Hevo is the Best:
Secure: Hevo has a fault-tolerant architecture that ensures that the data is handled in a secure, consistent manner with zero data loss.
Schema Management: Hevo takes away the tedious task of schema management & automatically detects the schema of incoming data and maps it to the destination schema.
Minimal Learning: Hevo, with its simple and interactive UI, is extremely simple for new customers to work on and perform operations.
Hevo Is Built To Scale: As the number of sources and the volume of your data grows, Hevo scales horizontally, handling millions of records per minute with very little latency.
Incremental Data Load: Hevo allows the transfer of data that has been modified in real-time. This ensures efficient utilization of bandwidth on both ends.
Live Support: The Hevo team is available round the clock to extend exceptional support to its customers through chat, email, and support calls.
Live Monitoring: Hevo allows you to monitor the data flow and check where your data is at a particular point in time.
SIGN UP HERE FOR A 14-DAY FREE TRIAL
Introduction to Finance Reports
A Financial Report (also referred to as a financial statement or finance report) is a management tool used to communicate key financial information to both internal and external stakeholders by covering every aspect of financial affairs. Financial Reports are written records that convey the business activities and the financial performance of a company.
Shopify Payout Reports are advanced reports available with Shopify and its higher plans. These include more granular reports about your products – sales of individual items, sales over different periods of a year (this can be useful for seasonal items), additional tax reports, or more detailed information about how your customers interact with your store.
Introduction to Shopify Payout Reports
Shopify offers various Shopify Payout Reports that offer a wide range of information from the finance reports, sales reports, bills, etc. The Shopify Payout Reports are present in the Finances section of the Reports page.
Steps to Open Finances Summary
From your Shopify admin, go to Analytics > Reports.
In the Finances section, click Finances summary.
Optional: Select a channel and choose a date range.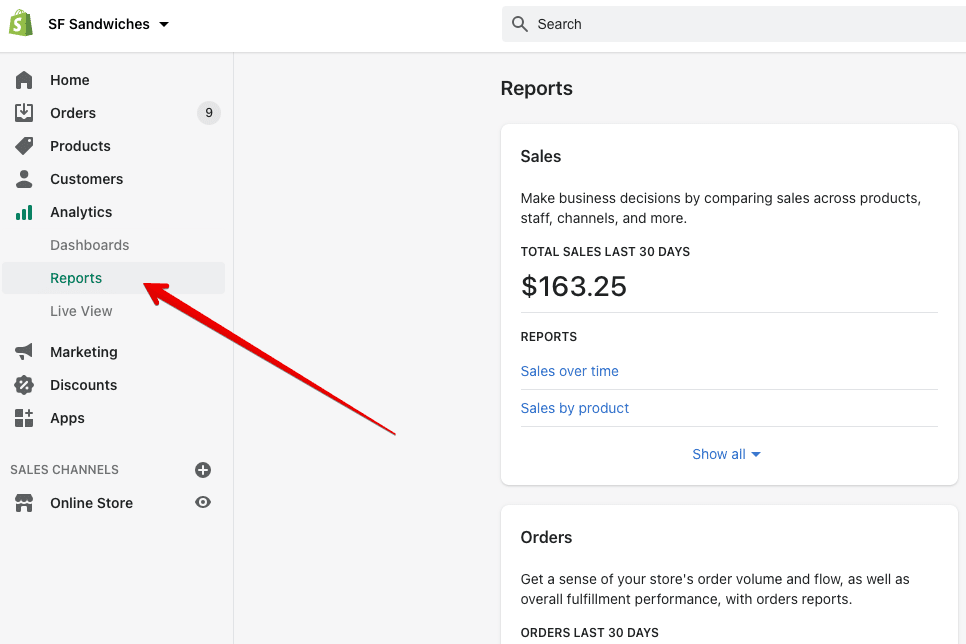 Sales overview
The Sales section of the Shopify Payout Reports shows an overview of your sales finance reports. It also has links to each of the other sales finance reports:
Gross sales report
Discounts report
Returns report
Net sales report
Shipping report
Taxes report
Each of these other sales finance reports focuses on a specific metric from the Sales report.
1) Payments overview
The Payments section of the Shopify Payout Reports shows an overview of your payments finance reports. It also has a link to a separate payments report for each payment method that your customers have used.
2) Gross Profit overview
The Gross Profit of Shopify Payout Reports section shows an overview of your net sales, costs, and profit. In this section, Net sales without cost recorded show net sales where cost wasn't recorded at the time of the sale. Net sales with cost recorded show net sales where cost was recorded at the time of the sale. Together these add up to your total Net sales for the selected date range.
3) Sales finance report
The Sales finance report of Shopify Payout Reports includes the values that are most needed when performing net sales bookkeeping. The report shows each sale and returns that your store made during the selected timeframe, organized by date.
If an order contains multiple products, then each product shows in the report as a separate sale or return, as do shipping charges. You can view the details of an order by clicking its order number.
4) Discounts finance report
The Discount Finance Report of Shopify Payout Reports includes the discounts that customers received by using discount codes during checkout. The report also includes discounts that you applied during checkout in Shopify POS.
5) Taxes finance report
The Taxes report of the Shopify Payout Reports shows the sales taxes that were applied to your sales in the selected timeframe.
Each row of the report shows a tax type (such as a state tax or a county tax), its rate, and the total amount of tax that was charged in the selected timeframe.
The report determines the country and region based on the destination of sales, so it might show destination information even for origin-based sales tax jurisdictions. To determine the destination, the shipping address is used. If the shipping address cannot be determined, then the billing address is used. If the billing address cannot be determined, then the POS address is used.
6) Payments finance report
The Payments finance report of Shopify Payout Reports shows your store's payment transactions for the selected timeframe.
7) Canceled payments
If a payment has been authorized but is canceled before the payment can be captured, then a positive amount and a corresponding negative amount will appear in the sales reports of Shopify Payout Reports. The positive amount appears because an order was placed. A refund is shown to balance the reports. However, nothing will appear in the payments finance reports because you didn't receive a payment.
A lot of data is used by Shopify Payout Reports is utilized by custom reports outside of Shopify. This way, you can generate reports on sales, profits, margins, statuses, and many others.
Conclusion
Shopify Payout Reports help you to look at your past performance, see short- and long-term trends, and spot many interesting opportunities. You can extract any data you need, visualize it, and feed it to other analytical services.
While using the Shopify Payout Reports is insightful, it is a hectic task to Set Up the proper environment. To make things easier, Hevo comes into the picture. Hevo Data is a No-code Data Pipeline and has awesome 100+ pre-built Integrations that you can choose from.
visit our website to explore hevo
Hevo can help you Integrate your data from numerous sources like Asana and load them into a destination to Analyze real-time data with a BI tool such as Tableau. It will make your life easier and data migration hassle-free. It is user-friendly, reliable, and secure.
SIGN UP for a 14-day free trial and see the difference!
Share your experience of learning about the Shopify Payout Reports in the comments section below.
No-code Data Pipeline For your Data Warehouse