How to Create Tableau Stories 101: Ultimate Guide Made Easy
Instead of guessing which key insights your team is interested in and including them in a presentation, you can decide by creating Tableau Stories. This way, you can walk viewers through your data discovery process while also giving them the option to interactively explore your data to answer any questions that arise during your presentation.
Use stories to make your case more compelling by demonstrating how facts are related to outcomes and how decisions are related to outcomes. You can then share your story with the world by publishing it online or presenting it to an audience.
Each story point may be based on a different view or dashboard, or the entire story may be based on the same visualization seen at various stages, with different filters and annotations.
In this article, you'll learn what the good thing is that you'll be aware of the benefits of sharing your visualizations with Tableau Server and Tableau Public.
Table of Contents
What is Tableau?
Tableau is a powerful and rapidly growing Data Visualization application in the Business Intelligence Industry. It aids in the transformation of raw data into an easy-to-understand format. Tableau helps to create data that experts at all levels of a company can understand.
Tableau, a Data Visualization, and Business Intelligence platform, was founded in 2003 by Christian Chabot, Pat Hanrahan, and Chris Stolte. It grew in popularity as businesses sought valuable insights from multiple data sources while also collaborating with their employees.
Tableau excels at Data Visualization, which is a great way to analyze large amounts of data. Tableau has assisted leading organizations across a wide range of industries in reducing processing time and becoming more data-driven, all while ensuring Flexibility, Security, and Reliability.
Key Features of Tableau
Tableau is a better option because it has more features than other BI tools. Here are just a few examples:
It has a large number of integrations from which to choose.
A one-of-a-kind drag-and-drop functionality.
It transforms your queries or questions into Visual Representations.
Tableau is accessible via mobile, web, and desktop.
It allows you to create a wide range of Visualizations to aid in data exploration.
Tableau has over 200 connectors that enable users to securely connect to external data sources such as RDBMS, the cloud, and spreadsheets.
Simplify your Tableau Data Analysis using Hevo's No-code Data Pipelines
Hevo Data, a No-code Data Pipeline helps to transfer data from 100+ sources to a Data Warehouse/Destination of your choice and visualize it in your desired BI tool such as Tableau. Hevo is fully managed and completely automates the process of not only loading data from your desired source but also enriching the data and transforming it into an analysis-ready form without even having to write a single line of code. Its fault-tolerant architecture ensures that the data is handled in a secure, consistent manner with zero data loss.
It provides a consistent & reliable solution to manage data in real-time and always have analysis-ready data in your desired destination. It allows you to focus on the key business needs and perform insightful analysis by using a BI tool of your choice.
Get Started with Hevo for Free
Check out what makes Hevo amazing:
Secure: Hevo has a fault-tolerant architecture that ensures that the data is handled in a secure, consistent manner with zero data loss.
Schema Management: Hevo takes away the tedious task of schema management & automatically detects schema of incoming data and maps it to the destination schema.
Minimal Learning: Hevo, with its simple and interactive UI, is extremely simple for new customers to work on and perform operations.
Hevo Is Built To Scale: As the number of sources and the volume of your data grows, Hevo scales horizontally, handling millions of records per minute with very little latency.
Incremental Data Load: Hevo allows the transfer of data that has been modified in real-time. This ensures efficient utilization of bandwidth on both ends.
Live Support: The Hevo team is available round the clock to extend exceptional support to its customers through chat, email, and support calls.
Live Monitoring: Hevo allows you to monitor the data flow and check where your data is at a particular point in time.
Sign up here for a 14-Day Free Trial!
What are Tableau Stories?
Tableau Stories is a series of Visualizations that work together to convey information. You can use stories to tell a data story, provide context, show how decisions affect outcomes, or simply make a compelling case.
Because a story is a sheet, the methods for creating, naming, and managing worksheets and dashboards also apply to stories (for more details, see Workbooks and Sheets). A story is both a collection of sheets arranged in a sequence and a collection of sheets. A story point is a name given to each individual sheet in a story.
When you share a story, such as by publishing a workbook to Tableau Public, Tableau Server, or Tableau Online, users can interact with it to reveal new findings or ask new questions about the data.
How to build Tableau Stories?
A good data story brings numbers and statistics to life. Take some time before you begin to build your story to consider its purpose and the journey you want your viewers to take. Is it a call to action, a simple narrative, or are you arguing a point?
If you're presenting a case, consider whether you want to present data points that lead up to a conclusion at the end, or whether you want to start with a conclusion and then show the supporting data points. For a busy audience, the latter approach works well.
When you use the story feature, you're constructing a series of points. Each point may contain a view, a dashboard, or simply text. Some stories use the same view throughout, with text annotations and different filters applied at various points to support the narrative arc.
Finally, sketching out your story on paper or a whiteboard first can help you identify problems with your sequence quickly.
In this manner, you can guide viewers through your data discovery process while still having the ability to interactively explore your data to address any questions that arise during your presentation. Here are a few steps to start with the Tableau Stories.
Tableau Stories Step 1: Make your First Plot point
You will begin the presentation with an overview.
Select the New Story option.

You're given a blank workspace with the instruction, "Drag a sheet here" This is where you will develop your first story point.
Blank stories like blank dashboards. You may also drag worksheets across to present them, just like a dashboard. You may also drag dashboards over to your tale to include them.
Drag the Sales in the South worksheet onto your view from the Story window on the left.
By modifying the text in the grey box above the worksheet, you may add a caption, such as "Sales and profit by year"
Tableau Stories Step 2: Emphasize Machine Sales
You can use the Sub-Category filter in your Sales in the South bar chart to bring machines into the picture.
Duplicate the first caption in the Story window by clicking Duplicate.
Continue where you left off, but keep in mind that your initial story point will be right where you left it.
Because you know you're telling a story about machines, clear the selection for (All) on the Sub-Category filter, then pick Machines.
Your audience can now immediately identify machine sales and profits by year.
Add a caption to highlight what your viewers see, such as "Machine sales and profit by year"
Click on the image and observe
Tableau Stories Step 3: Make your case
The bottom truth is that machines in North Carolina cost your organization money. That was detected in the dashboard your set up. Overall sales and profit by year do not reflect this fact, but regional profit does.
Select Blank in the Story pane. Then, on the canvas, drag your dashboard Regional Sales and Profit.
This provides readers with a fresh perspective on your data: The term "negative profit" captures the attention of the reader.
You may now lead viewers through the year-to-year fluctuations in profit or sales and you can generate more insights.
Tableau Stories Step 4: The Final touches
You want to describe your results on this story point that focuses on data from 2021. Let's go into a little more detail than just a caption.
Select Drag to add text in the left pane and drag it into your display.
Enter a description for your dashboard that stresses machine underperformance.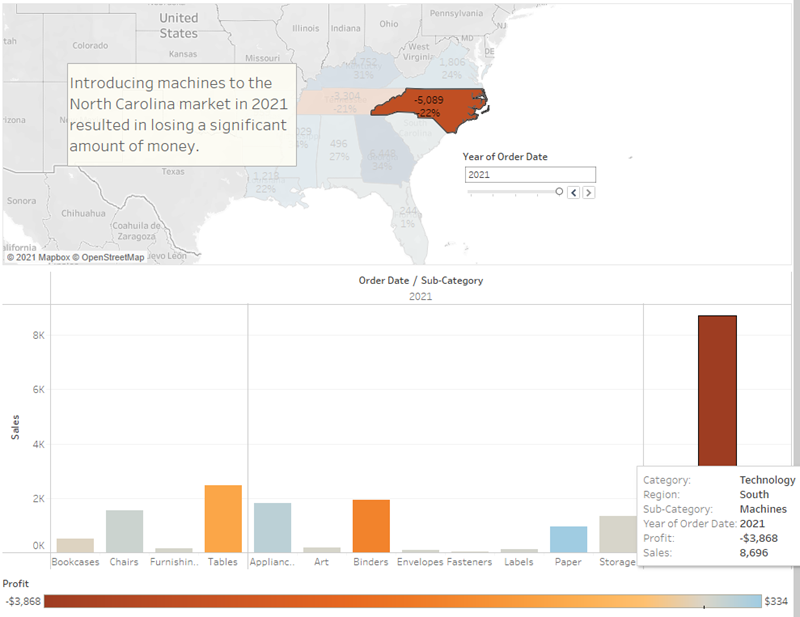 And now, for the final slide, you delve into the specifics.
Click Blank in the Story pane.
Drag Negative Profit Bar Chart to the view from the Story pane.
Narrow the view to only 2021 in the Year of Order Date filter card.
It is now clear that the loss of machine profitability was caused primarily by Burlington, North Carolina.
Right-click the Burlington mark (the bar) in the view and choose Annotate > Mark
In the display, click and drag the annotation to reposition it.
Make the caption for this story point: "Where are we losing machine profits in North Carolina?"
Rename your narrative "Improve Profits in the South" by double-clicking the Story 1tab.
Select Window > Presentation mode to go over your tale again.
Examine your work! Take a look at "Finishing touches" in action.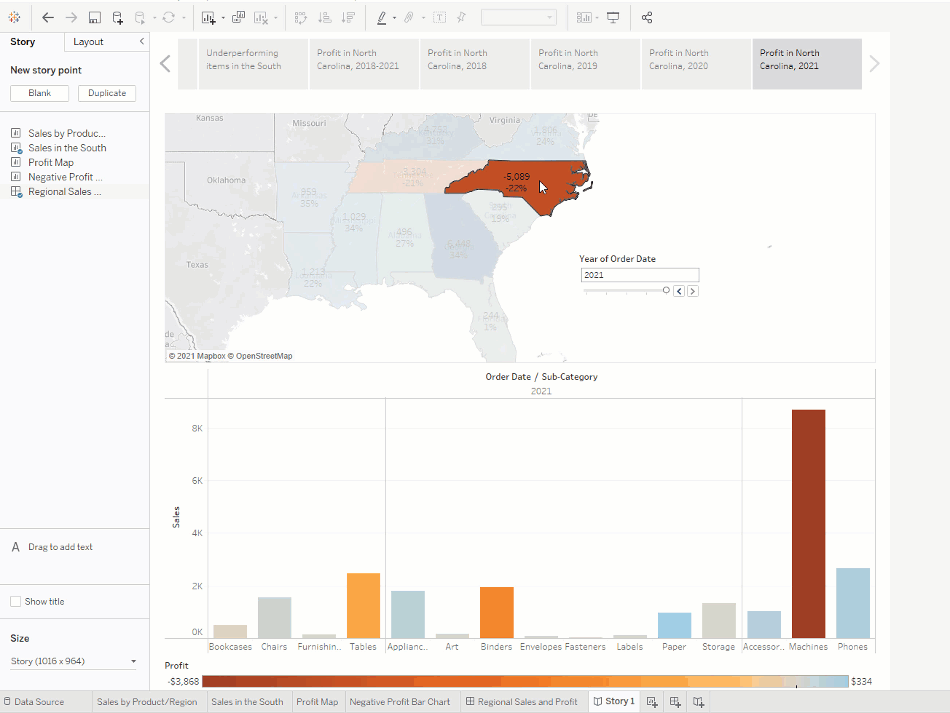 Best Practices for Telling Tableau Stories
Maintain Simplicity: Attempting to fit too many views and dashboards into a single story is a common mistake. As a result, your viewers will be overwhelmed with information. Each plot point's clarity is likewise vital. Take a step back and look at your tale through the eyes of someone who has never seen it before. Every component should have a function. Remove any captions, titles, legends, or grid lines that aren't absolutely necessary.
Use 'Fit to' Dashboards: Dashboards are frequently used in Tableau stories. Fit to option under Size on the Dashboard page can be used for dashboards that you intend to include in your tale. It will adapt your dashboard to fit the size of the story you're working on.
Make plans for Quick Load times: The greatest brilliant tale in the world will have little impact if it takes too long to load after it has been published. Long delays are a source of annoyance for many people. Filtering is a typical cause of long load times. Although filters are useful for limiting the amount of data processed, they can have an impact on query performance.
Conclusion
Some of the most important performance decisions you will make as an author begin even before you build your first view or narrative, in the data preparation stage. Take a moment to become acquainted with the data you're working with.
Know Your Data at the Database Level, Test Your Data, and Use Extracts in Tableau Desktop online help for suggestions on what to look for and smart ways to interact with your data.
Hevo Data is a no-code data pipeline that can instantly connect multiple sources. Integrating and analyzing data from a large number of disparate sources can be difficult; this is where Hevo comes in.
Visit our Website to Explore Hevo
Hevo Data, a No-code Data Pipeline helps you to transfer data from a source of your choice in a fully automated and secure manner and without having to write the code repeatedly. Hevo with its strong integration with 100+ sources & BI tools, allows you to not only export & load Data but also transform & enrich your Data & make it analysis-ready in a jiffy.
Want to take Hevo for a spin? Sign Up for a 14-day free trial and experience the feature-rich Hevo suite first hand. You can also have a look at our unbeatable pricing that will help you choose the right plan for your business needs!
Share your experience of Tableau Stories in the comment section below!
No-code Data Pipeline For Tableau