Ultimate Guide on GA Goal Funnel Simplified 101
Customer Journey Analytics is the process of analyzing data associated with customer behavior across touchpoints in your product/offering over a period of time to measure the impact of customer behavior on business results. A holistic Customer Journey refers to the steps a user takes to perform a particular action on your website.
There are tons of ways a user can navigate around large websites, and without a way to follow these routes, it can be difficult to optimize them efficiently. Fortunately, these can be easily analyzed with the help of Google Analytics if you know the right places to look at. GA Goal Funnel is one such functionality that can be used to track the Customer Journey.
This article will give you a step-by-step guide on how to build a GA Goal Funnel from scratch. Upon a complete walkthrough of this article, you'll be having a decent understanding of Google Analytics and its key features. You will also be able to set up GA Goal Funnel and gather actionable insights for your business.
Table of Contents
Prerequisites
An active Google Analytics account.
Introduction to Google Analytics
Google Analytics is a Cloud-Based Analytics tool offered by Google that allows users to analyze Website Traffic and analyze Customer Behavior. It houses numerous features that allow users to integrate with different platforms and extract traffic data for their websites. It helps users break down their campaigns into different metrics to understand their campaign performance and make data-driven decisions to improve performance. It is the most popular choice for industries because of its extensive reporting capabilities.
Key Features of Google Analytics
Google Analytics has several advantages. Some of them are as follows:
Web Traffic Tracking: For all visitors, Google Analytics monitors the website and collects all essential data points on metrics such as Region, Users, Clicks, Products, Conversion, etc. It offers a detailed report based on the collected data so that companies can evaluate their campaign efforts.
Custom Reports: Google Analytics Custom Reports allow you to split your data exactly the way you want. By providing out-of-the-box Reports that provide insights on Mobile Performance, Page Time, Bounce Rate, etc, Google Analytics manages to save a lot of time and effort.
Goal Tracking: You can design goals for specific pages of your website. Each time a user takes the steps that complete your desired goal, Google Analytics marks it as a conversion.
Flow Visualization: Flow Visualizations give you a deeper understanding of your website visitors. These visualizations allow you to see every step visitors have taken while researching your website, allowing you to get a quick overview of the involvement of your visitors.
Real-time Dashboards: By monitoring sources, Organic Traffic, Keywords, Sentiments, and other factors, the Google Analytics Dashboard can help you better understand Visitor/Customer Behavior. The Google Analytics Dashboard tells you about your customers' habits, how they interact with your products, why they bounce, the source platform, lead generation, and more.
For further information on Google Analytics, click here to check out their official website.
Introduction to GA Goal Funnel
GA Goal Funnels describe and visualize the phases a prospect goes through before converting into a customer or making a purchase. It is actually a series of actionable steps that the prospect takes on your website. For example, for an e-commerce company like Amazon, a user might come across one of their ads, then the user creates an account on Amazon, searches for a product, and then finally makes the purchase. Each step of a GA Goal Funnel represents a step that must be completed to achieve a specified goal.
Understanding the Importance of GA Goal Funnel
One of the most insightful functionalities that Google Analytics has to offer is Goal Funnels. It gives you the ability to keep track of your Customer's Journey throughout the entire Sales/Conversion process. No matter what type of online business you are in, whether you are trying to sell a product or you are trying to get the customer to sign up on your page. There are always a certain number of steps that the customer has to go through in order to successfully convert.
For instance, if your Google Analytics Goal is to get the customer signed in to your business page. You want them to land upon the Sign In Confirmation page. If you have a three-step process for your customers to go through to get to that Sign In Confirmation page. The Sales Funnel will show the Customer's Journey through every single step, showing you points along the way, at which different customers got off, and giving you the opportunity to come back and optimize these pages to increase your conversion rates.
Simplify your Data Analysis with Hevo's No-code Data Pipeline

A fully managed No-code Data Pipeline platform like Hevo Data helps you integrate data from 100+ data sources like Google Analytics (including 30+ Free Data Sources) to a destination of your choice in real-time in an effortless manner. Hevo with its minimal learning curve can be set up in just a few minutes allowing the users to load data without having to compromise performance. Its strong integration with umpteenth sources allows users to bring in data of different kinds in a smooth fashion without having to code a single line.
Check out some of the cool features of Hevo:
Completely Automated: The Hevo platform can be set up in just a few minutes and requires minimal maintenance.
Connectors: Hevo supports 100+ data sources and integrations to SaaS platforms, files, databases, analytics, and BI tools. It supports various destinations including Google BigQuery, Amazon Redshift, Snowflake Firebolt Data Warehouses; Amazon S3 Data Lakes; and MySQL, MongoDB, TokuDB, DynamoDB, PostgreSQL databases to name a few.
Real-Time Data Transfer: Hevo provides real-time data migration, so you can have analysis-ready data always.
100% Complete & Accurate Data Transfer: Hevo's robust infrastructure ensures reliable data transfer with zero data loss.
Scalable Infrastructure: Hevo has in-built integrations for 100+ sources that can help you scale your data infrastructure as required.
24/7 Live Support: The Hevo team is available round the clock to extend exceptional support to you through chat, email, and support calls.
Schema Management: Hevo takes away the tedious task of schema management & automatically detects the schema of incoming data and maps it to the destination schema.
Live Monitoring: Hevo allows you to monitor the data flow so you can check where your data is at a particular point in time.
You can try Hevo for free by signing up for a 14-day free trial.
Steps to Set up GA Goal Funnel
Now that you have a basic idea about GA Goal Funnels, it's time you learn how to build one! You can follow the steps given below to build a GA Goal Funnel on your own:
Step 1: Log in to your Google Analytics account.
Step 2: Once you've logged in to Google Analytics, you will see the Admin option on the bottom corner in the Left Panel. Click on it.
Step 3: Go to the View section on the right side of the page and select Goals.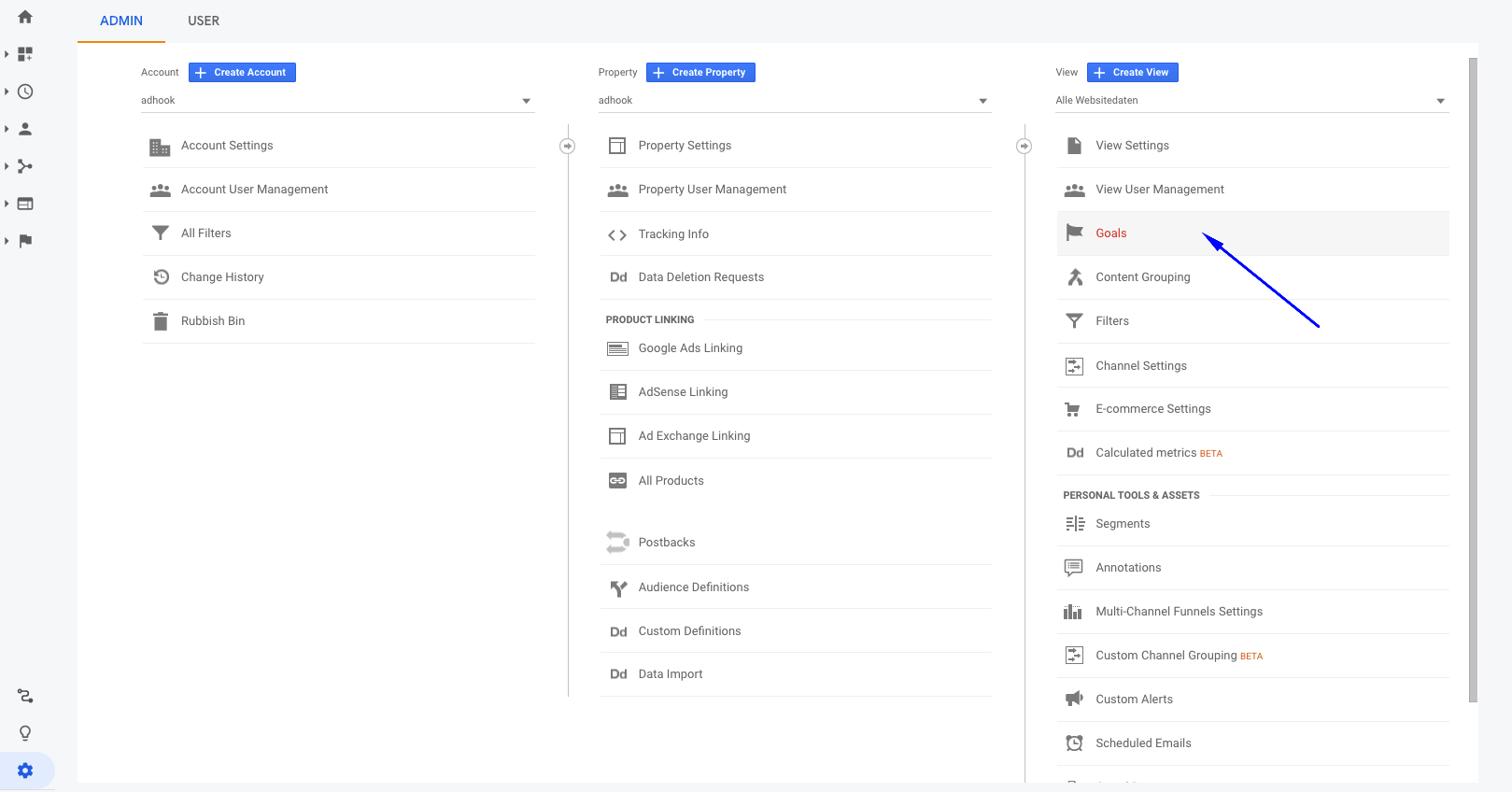 Step 4: Click on "+ New Goal" to create a new goal.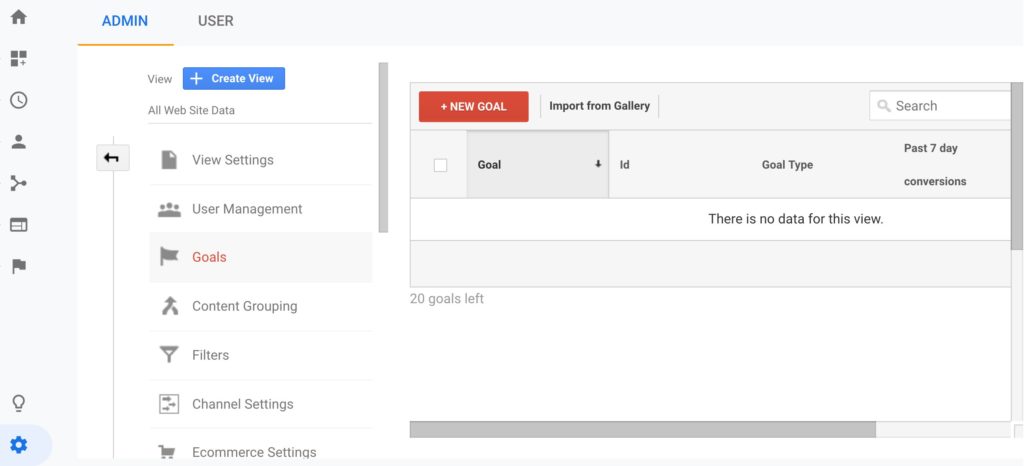 Step 5: You can either select a template with pre-filled configurations or you can create a custom template of your own.
Step 6: To create a custom template. Select the Custom Option and click on Continue.
Step 7: To create a custom template, fill certain fields with the first being Name of the Goal. Give a name to your goal which will be used to identify the goal in the Analytics account.
Step 8: Once you have given a name to your goal, select a Unique ID for your goal.
Step 9: Enter the Type of goal according to your requirements. The goal type basically refers to the nature of the Goal that you choose for your business and if the user completes the desired goal, then it will be marked as a conversion.
Step 10: Next, you need to define the Goal details. Give the definition for your destination page.
Step 11: Mark the Funnel option On and enter the URLs for each step of the funnel.
Once you follow all the above steps in the correct sequence, you will be able to create a GA Goal Funnel. In one glance you'd be able to see the Customer behavior for each step of the funnel.
Conclusion
The idea behind building a GA Goal Funnel is to track the complete Customer's Journey. Goal Funnels can be used to determine where the consumer enters or exit the conversion/sales process. You can then identify and remove bottlenecks in the conversion process and boost website sales! In this article, you learned about Google Analytics along with the salient features that it offers. You also learned how to create a custom GA Goal Funnel from scratch in a seamless manner.
Integrating and analyzing your data from a huge set of diverse sources can be challenging, this is where Hevo Data comes into the picture. Hevo Data is a No-code Data Pipeline and has awesome 100+ pre-built integrations that you can choose from. Hevo can help you integrate your data from numerous sources such as Google Analytics, Google Analytics 360, and even Google Analytics 4 and load it into a destination to analyze real-time data with a BI tool and create your Dashboards. It will make your life easier and make data migration hassle-free. It is user-friendly, reliable, and secure. Check out the pricing details here.
Try Hevo by signing up for a 14-day free trial and see the difference!
Share your experience of creating GA Goal Funnels! Let us know in the comments below!
No-code Data Pipeline for Google Analytics