Ultimate Guide to Taboola Backstage Simplified 101
Campaign Management comprises a wide range of activities that revolve around planning, executing, monitoring, and analyzing a Marketing Initiative. Most companies run Marketing Campaigns to attract potential buyers on the virtue of solving a specific problem through their products or services. In order to launch successful Marketing Campaigns on a regular basis, introducing a professional Campaign Management software is of the utmost importance. Taboola Backstage is one such Campaign Management Platform that helps you in monitoring every stage of your Marketing Campaigns.
Upon a complete walkthrough of this article, you will gain a decent understanding of Taboola Backstage. You will also be able to use different features offered by Taboola Backstage to streamline your Marketing Campaigns.
Table of Contents
Prerequisites
An active Taboola Backstage account.
Introduction to Taboola
Taboola is one of the most popular Cloud-based Content Marketing and Discovery platforms mainly used by Publishers, Authors, and Media Companies to connect their business with their target audience by posting relevant content across websites and Social Media posts. It allows them to reach a wider audience and increase the conversion rate. Taboola enables advertisers to choose their Campaigns based on their goals, be it to Increase Sales, Generate more Leads, Increase Traffic or Increase Brand awareness. It also enables website owners to analyze the data consumption of their Campaigns.
The reason for Taboola's exponential success is its ability to carefully position Ads that increase their chances of getting clicked by the target audience. It has exclusive partnerships with the world's leading publishers like Bloomberg, MSN, etc. A reader who is already browsing articles has the highest chance of clicking on an Ad, especially if the Ad resonates well with the content being served. Taboola uses a robust recommendation stack based on Deep Learning to process large amounts of consumer data and determine where your Ad belongs.
Key Features of Taboola
There are multiple advantages that Taboola offers. Some of them are as follows:
Taboola enables businesses to connect with the right audience and establish better communication with the right readers.
Using Taboola, companies can easily target their B2B and B2C Audiences and run separate advertising campaigns for these prospects.
Taboola provides the users with intuitive Reporting tools that can be used to monitor the live performance of their content across different web channels.
Taboola enables you to optimize your website so that each visitor receives a unique experience, depending on how they interact with it.
Users can benefit from in-feed videos that fit seamlessly into the content and thus lead to a much better Page experience.
Taboola allows the user to perform A/B Testing which can improve the quality of their website.
Taboola helps publishers grow their website traffic by integrating it with third-party websites and partners.
For further information on Taboola, click here to check out their official website.
Introduction to Taboola Backstage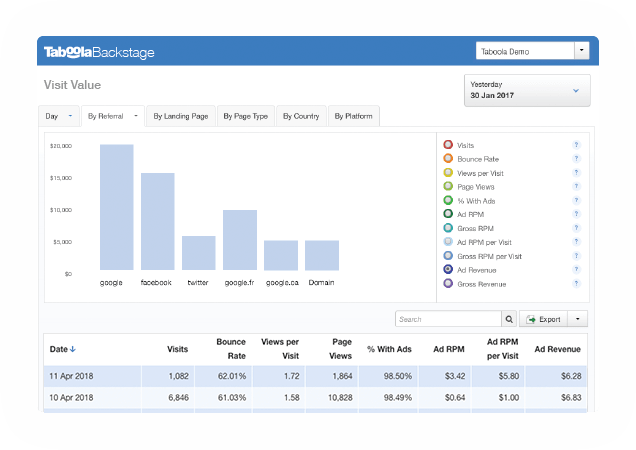 Backstage is Taboola's Campaign Management Platform, which helps you initiate and monitor your Campaigns. Taboola Backstage gives you complete control over your campaigns. You can edit your Campaign Settings at any time, including the Target Audience and Budget. It also allows you to start and stop your Campaigns at any time. In the later section of this article, you will be learning how to set up new Campaigns using Taboola Backstage.
Simplify Taboola ETL and Analysis using Hevo's No-code Data Pipeline

Hevo Data, a No-code Data Pipeline, helps load data from any data source such as Taboola, Databases, SaaS applications, Cloud Storage, SDKs, and Streaming Services and simplifies the ETL process. It supports 100+ data sources like Taboola among other 30+ free sources and loads the data onto the desired Data Warehouse, enriches the data, and transforms it into an analysis-ready form without writing a single line of code. In addition, Hevo supports Taboola as a free data source which means you can load data from Taboola for absolutely no cost.
Its completely automated data pipeline offers data to be delivered in real-time without any loss from source to destination. Its fault-tolerant and scalable architecture ensures that the data is handled in a secure, consistent manner with zero data loss and supports different forms of data. The solutions provided are consistent and work with different Business Intelligence (BI) tools as well.
Get Started with Hevo for Free
Check out some of the cool features of Hevo:
Secure: Hevo has a fault-tolerant architecture that ensures that the data is handled securely and consistently with no loss.
Schema Management: Hevo takes away the tedious task of schema management & automatically detects the schema of incoming data and maps it to the destination schema.
Minimal Learning: Hevo, with its simple and interactive UI, is extremely simple for new customers to work on and perform operations.
Hevo Is Built To Scale: As the number of sources and the volume of your data grows, Hevo scales horizontally, handling millions of records per minute with very little latency.
Incremental Data Load: Hevo allows the transfer of data that has been modified in real-time. This ensures efficient utilization of bandwidth on both ends.
Live Support: The Hevo team is available round the clock to extend exceptional support to its customers through chat, email, and support calls.
Live Monitoring: Hevo allows you to monitor the data flow and check where your data is at a particular point in time.
Connectors: Hevo supports 100+ data sources and integrations to SaaS platforms such as Taboola, files, databases, analytics, and BI tools. It supports various destinations including Google BigQuery, Amazon Redshift, Snowflake, and Firebolt Data Warehouses; Amazon S3 Data Lakes; and MySQL, MongoDB, TokuDB, DynamoDB, PostgreSQL databases to name a few.
Sign up here for a 14-Day Free Trial!
Steps to Set up New Campaign in Taboola Backstage
Taboola Backstage enables the users to create new Campaigns. You can set up a new Campaign by following the steps given below:
Step 1: Navigate to the Campaigns tab in the top bar.
Step 2: Click on the Create button and select Campaign from the drop-down menu.

Step 3: Once you've selected the Campaign option, you will land upon the New Campaign Page and you'll be prompted to fill certain fields such as Campaign Name, Brand Name, and Marketing Objectives.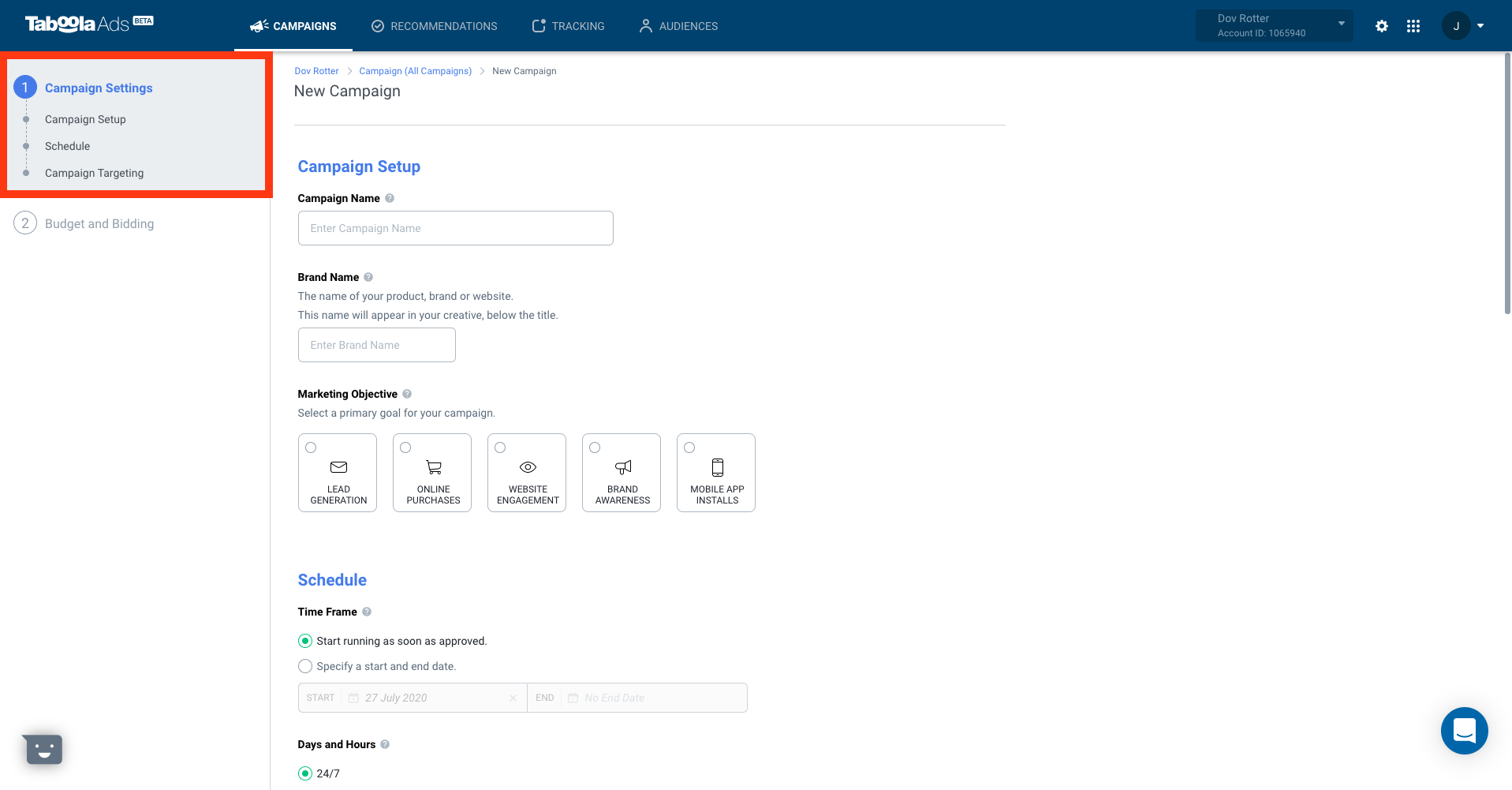 Step 4: You can also schedule your Campaigns based on certain timeframes and once you are done click on Submit and your Campaign will be created.
Steps to Edit Campaign Settings
Taboola Backstage also allows you to edit pre-existing Campaigns. You can follow the steps given below to do so:
Step 1: Navigate to your Campaign Management Page.
Step 2: In the Campaign Management Page, you will see a list of all the Campaigns that you have created.
Step 3: Choose the Campaign that you wish to edit and click on the Inventory button which will take you to the Campaign Inventory Page. Here, you can edit Campaign items.

Step 4: To edit Campaign items in an RSS feed, on the Campaign Inventory page, click on the third icon to the right of the RSS feed. An Inventory Page of the RSS feed will open with all the elements of the Campaign from the RSS feed you entered.

Step 5: If you want to edit the title for a specific Campaign item, click on the title, and a yellow box will appear where you can modify the title. Once you are done, click on OK to save the changes.

Step 6: If you want to edit the thumbnail, click on the Image. You can either upload an image from your desktop or insert a URL for the thumbnail image. Once you have selected the desired image, click on OK to save the changes.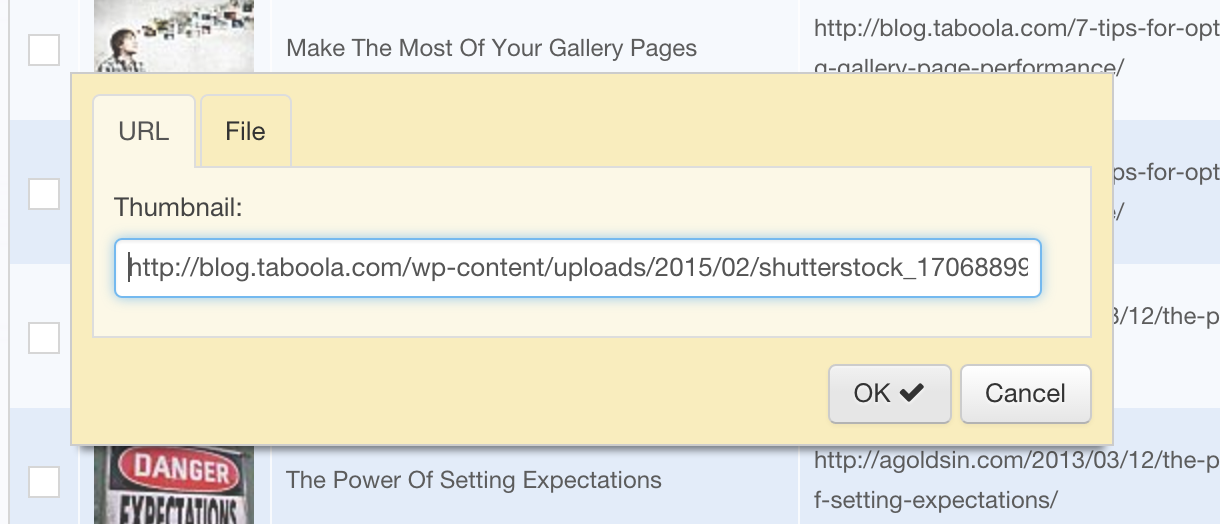 Step 7: Once you have made all the desired changes, click on the Finish button at the bottom of the page.
Taboola Backstage Campaign Reporting
Taboola Backstage provides users with Campaign Reports that allow them to view and analyze the data related to each Campaign. Campaign Reports provide everything you need to understand your Campaigns, including performance information that you can use to optimize your Campaigns.
Campaign Reporting is located on the Campaign Summary Page. This page reports and displays data at the Campaign level. By default, when you access the Campaign Summary page, you will see the data of the last 7 days associated with all your campaigns.
You can also add filters to your Campaign Reports by clicking on the + Add Filter button. This allows you to see data at a granular level.
Click here to learn more about Campaign Reporting in Taboola Backstage.
Conclusion
In this article, you learned about Taboola and the salient features that it offers. You also learned about Taboola Backstage and how you can leverage it to optimize your Marketing Campaigns. However, to carry out an in-depth analysis of your Campaigns, Customer, and other marketing initiatives, you would often need to extract data from multiple sources to have all insights. Integrating and analyzing your data from a diverse set of data sources can be challenging and this is where Hevo Data comes into the picture.
Visit our Website to Explore Hevo
Hevo Data is a No-code Data Pipeline and has awesome 100+ pre-built integrations(including 30+ free sources like Taboola) as well that you can choose from. Hevo can help you integrate data from numerous sources such as Taboola and load it into a destination to analyze real-time data with a BI tool and create your Dashboards. In addition, Hevo supports Taboola as a free data source, hence you can leverage Hevo's No-code data pipeline to leverage data from Taboola for absolutely free. It will make your life easier and make data migration hassle-free. It is user-friendly, reliable, and secure.
Want to take Hevo for a spin? Sign Up for a 14-day free trial and experience the feature-rich Hevo suite first hand. You can also have a look at the unbeatable pricing that will help you choose the right plan for your business needs.
Share your experience of learning about Taboola Backstage. Tell us in the comments below!
No-code Data Pipeline for Taboola