WooCommerce Import Products Simplified: 2 Easy Steps
In the last decade, online shopping has gained massive popularity because of its Convenience, Availability, and Speed. However, many consumers nowadays do not need a reason to go online and make a purchase, it's second nature to them. So it makes absolute sense that you'd want to start an E-commerce business or take your storefront online. Furthermore, if you've already created a WordPress website and installed the WooCommerce plugin, the tricky part is over. All you have to do now is import products into WooCommerce and showcase them to your customers.
Upon a complete walkthrough of this article, you will gain a decent understanding of WooCommerce along with the features that it offers. This article will also provide you with a step-by-step guide on how to perform WooCommerce Import Products. Read along to learn more about WooCommerce Import Products!
Table of Contents
Prerequisites
Basic Understanding of CSV Files.
An Active WordPress Account with WooCommerce Installed.
What is WooCommerce?
WooCommerce is one of the most popular and arguably the best WordPress E-Commerce Plugin that allows users to create an online store by adding E-commerce functionalities to their WordPress website. It simplifies the process of creating and managing an online store by providing adequate levels of flexibility and a number of critical features such as Inventory and Tax Management, Order Tracking, Secure Payments, Delivery Status, and Shipping Integration. WooCommerce powers 99 percent of all WordPress stores, with over 27 million downloads to date.
Key Features of WooCommerce
Some of the key features of WooCommerce are as follows:
Easy to Install: With a simple Installation and Setup Wizard to get your E-commerce store up and running with your WordPress theme, WooCommerce is designed to make it as simple as possible to get started.
Data Control: Data associated with customer history and purchases, as well as store performance, is critical for the operation of a successful E-commerce website. Hence, WooCommerce provides you the complete control over data at all times.
SEO Benefits: Since WooCommerce is built on WordPress, WooCommerce storefronts benefit significantly from the granular controls for the key SEO options.
Wide Range of Extensions: The sky is truly the limit when it comes to WooCommerce extensions. With over 450+ extensions, you can configure your shop in virtually infinite ways. Extensions, as opposed to adding to the Core Plugin, are Add-ons that work only if WooCommerce is first installed, and they add additional functionality to your E-commerce website.
You can also click here to learn more about WooCommerce.
Simplify WooCommerce ETL & Analysis with Hevo's No-code Data Pipeline
Hevo Data is a No-code Data Pipeline that helps you directly transfer data from WooCommerce, and 100+ Data Sources (including 40+ Free Sources) to Business Intelligence tools, Data Warehouses, or a destination of your choice in a completely hassle-free & automated manner. Hevo is fully managed and completely automates the process of not only loading data from your desired source but also enriching the data and transforming it into an analysis-ready form without having to write a single line of code. Its fault-tolerant architecture ensures that the data is handled in a secure, consistent manner with zero data loss.
Hevo takes care of all your data pre-processing needs required to set up the integration and lets you focus on key business activities and draw a much powerful insight on how to generate more leads, retain customers, and take your business to new heights of profitability. It provides a consistent & reliable solution to manage data in real-time and always have analysis-ready data in your desired destination.
Get Started with Hevo for free
Check out some of the cool features of Hevo:
Real-Time Data Transfer: Hevo with its strong Integration with 100+ Sources such as WooCommerce (including 40+ Free Sources), allows you to transfer data quickly & efficiently. This ensures efficient utilization of bandwidth on both ends.
Data Transformation: It provides a simple interface to perfect, modify, and enrich the data you want to transfer.
Secure: Hevo has a fault-tolerant architecture that ensures that the data is handled in a secure, consistent manner with zero data loss.
Tremendous Connector Availability: Hevo houses a large variety of connectors and lets you bring in data from numerous Databases, Marketing & SaaS applications, etc. such as WooCommerce, Marketo, MongoDB, Oracle, Salesforce, etc. in an integrated and analysis-ready form.
Simplicity: Using Hevo is easy and intuitive, ensuring that your data is exported in just a few clicks.
Completely Managed Platform: Hevo is fully managed. You need not invest time and effort to maintain or monitor the infrastructure involved in executing codes.
Live Support: The Hevo team is available round the clock to extend exceptional support to its customers through chat, email, and support calls.
Sign up here for a 14-day Free Trial!
How to Perform WooCommerce Import Products?
Follow the steps given below to leverage the built-in Product Importer in WooCommerce to perform WooCommerce Import Products:
Step 1: Create a Product CSV File
The first step in performing WooCommerce Import Products involves creating a CSV File. While CSV files assist newbies in setting up their online store in minutes, existing store owners can leverage CSV files to update up to hundreds of products with new information or put them on sale. CSV files are also excellent for synchronizing multiple storefronts.
Here's how to make a CSV file with all of your product information:
If you already have an online store, simply export your entire Product Catalog as a pre-populated CSV file. The procedure varies slightly depending on the platform, but it generally entails clicking the 'Export' button somewhere in your Settings or Product Management Page.
If you're starting from scratch and haven't already uploaded your products, you can start by creating an .XLSX file in Microsoft Excel. The columns should be named after the product information you want to display. Once you have created the file, save it with a .CSV extension.
You will need the following information to describe your products:
Type of the Product.
Name of the Product.
Short Description of the Product.
Regular Price of the Product.
Discounted Price of the Product.
URLs of Images you want to be displayed for the Product.
Step 2: Upload the Desired CSV File and Start Importing
WooCommerce includes a Product CSV Importer and Exporter tool which allows you to import, export, or update thousands of products in your WooCommerce store by using a single CSV File. New and Existing WooCommerce store owners can leverage the CSV files to add new products with a single upload. Follow the steps given below to perform WooCommerce Import Products:
Login to your WordPress account using the appropriate credentials.
Navigate to the Dashboard section of WordPress and click on the Products option present under the WooCommerce section.

Once the Products page is opened, click on the Import option.
Browse and upload the CSV file that contains the information associated with the products. CSV elements are typically separated by a comma. If your file uses a different delimiter, you can specify it here before performing WooCommerce Import Products.
Once you have successfully uploaded the CSV File, click on the Continue button. This will redirect you to the Column Mapping Window which will lead you to perform WooCommerce Import Products.
WooCommerce automatically matches/maps the Column Name from your CSV File to the Product Fields. If you do not want to import a certain field, you can select the option Do not Import from the right side drop-down menu.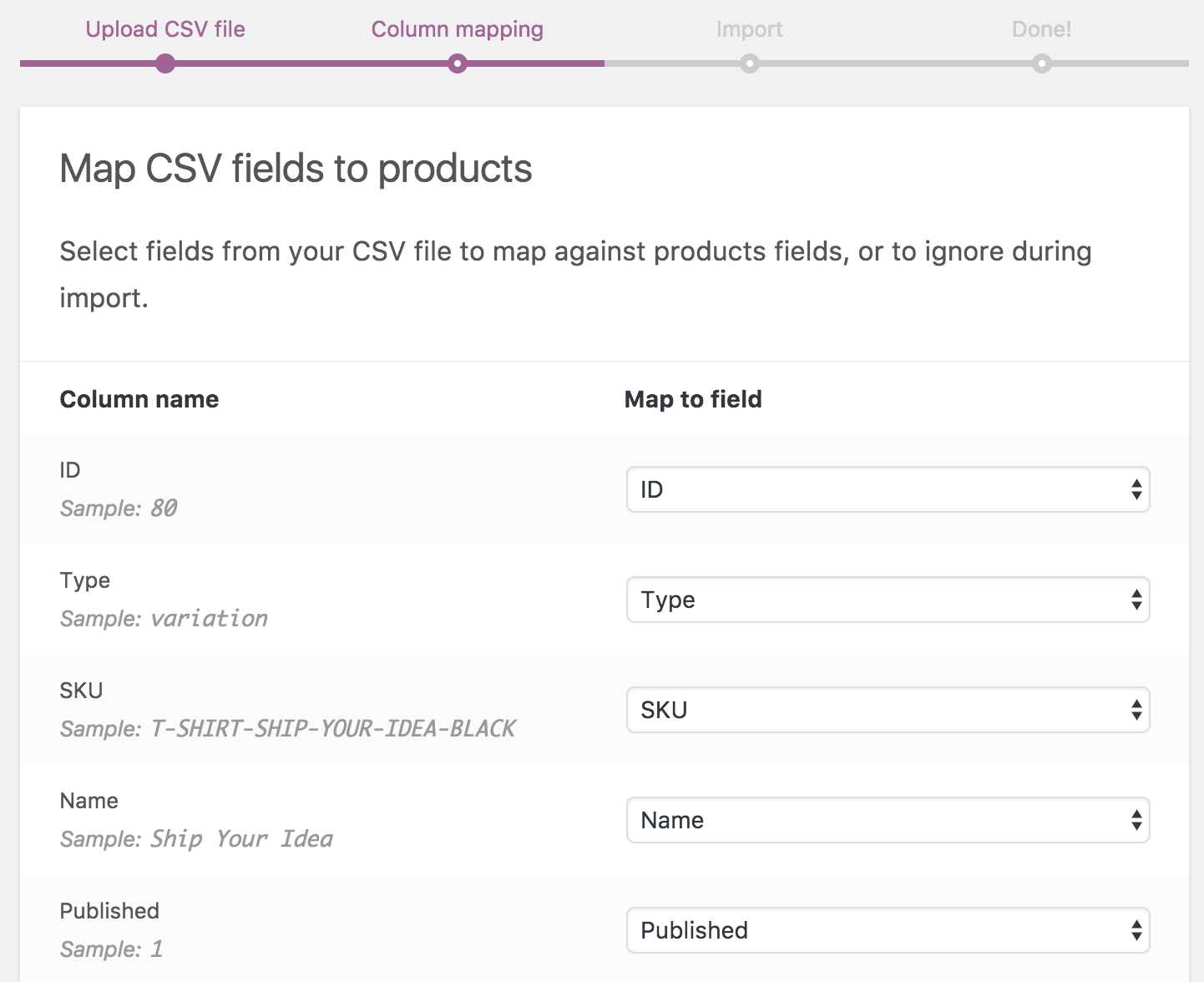 Once you have successfully mapped the required CSV Fields against the Product Fields, click on the Run the Importer button.
Wait until the Import Process is completed and make sure you do not refresh the browser while the process is running.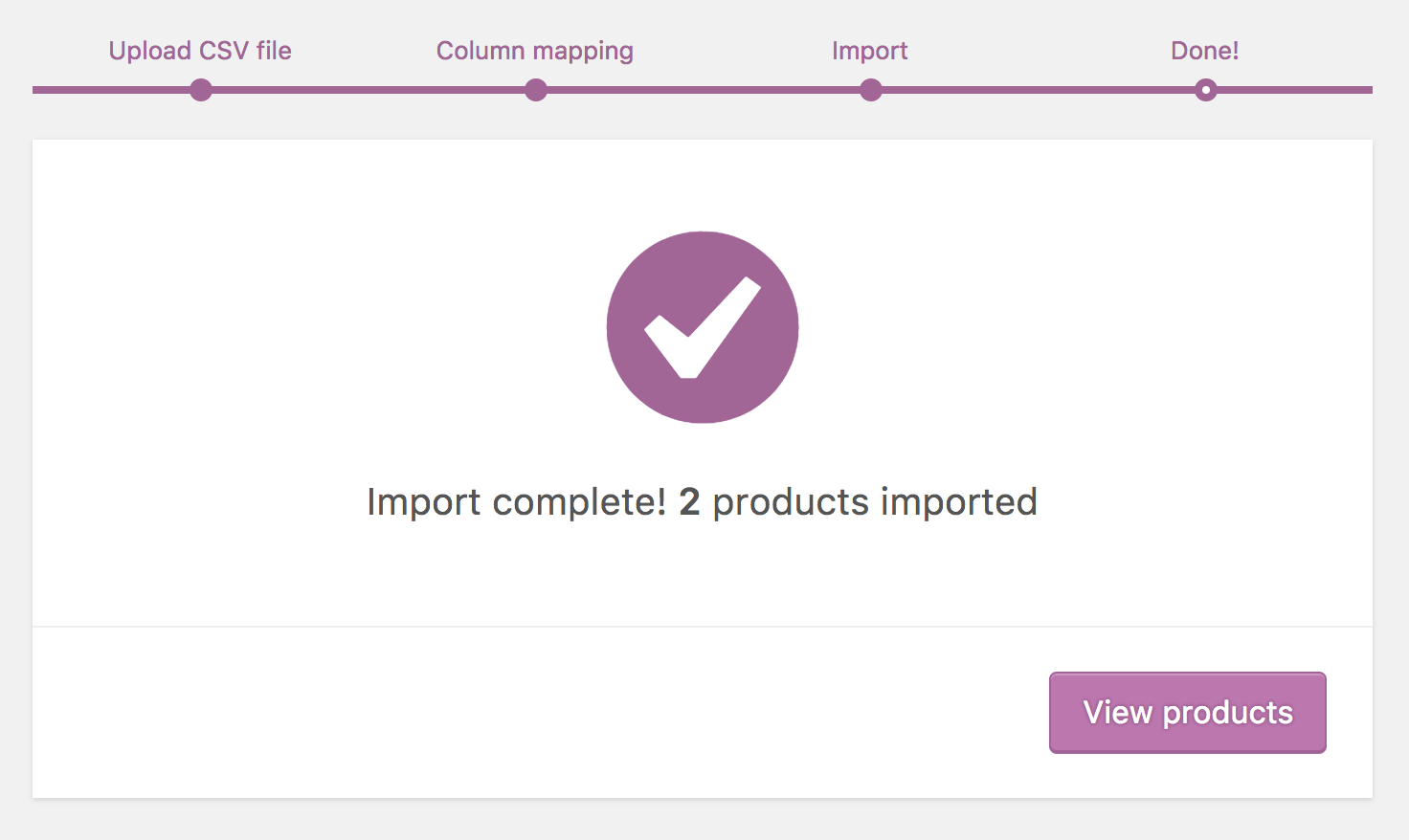 Once you follow all the above steps, you will be able to perform WooCommerce Import Products using a CSV File.
Conclusion
This article provided a brief introduction to WooCommerce and also explained its salient features. Moreover, it discussed the steps using which you can easily perform WooCommerce Import Products. Integrating and analyzing your data from a diverse set of data sources such as WooCommerce can be challenging and this is where Hevo Data comes into the picture.
Visit our Website to Explore Hevo
Hevo Data provides its users with a simpler platform for integrating data from 100+ sources(including 40+ free sources) such as WooCommerce for Analysis. It is a No-code Data Pipeline that can help you combine data from multiple sources. You can use it to transfer data from multiple data sources into your Data Warehouse, Database, or a destination of your choice. It provides you with a consistent and reliable solution to managing data in real-time, ensuring that you always have Analysis-ready data in your desired destination.
Want to take Hevo for a spin? Sign Up for a 14-day free trial and experience the feature-rich Hevo suite first hand. You can also have a look at our unbeatable pricing that will help you choose the right plan for your business needs!
Share your experience of performing WooCommerce Import Products. Tell us in the comments below!
No-code Data Pipeline for WooCommerce