6 Best Snowflake ETL Tools For 2022
Are you having trouble setting up and maintaining a reliable ETL process for your organization? Are you trying to better understand the plethora of ETL tools available in the market to see if any of them fits your bill? Are you a Snowflake customer (or planning on becoming one) looking to extract and load data from a variety of sources? If any of the above questions apply to you, read on as this article compares some of the popular Snowflake ETL tools based on multiple features commonly used for evaluation. This article is geared specifically towards comparing and evaluating Snowflake ETL tools that can move data into the Snowflake Data Warehouse, among other destinations.
Table of Contents
Introduction to Snowflake
Snowflake is a fully managed, cloud Data Warehouse available to customers in the form of Software-as-a-Service (SaaS). Snowflake querying adheres to the standard ANSI SQL protocol supporting fully structured as well as semi-structured data like JSON, Parquet, XML, etc. It is highly scalable in terms of the number of users that can be supported as well as the computing power. It offers pre-purchasable packaged pricing plans as well as flexible, pay-as-you-go pricing charged at per second levels of resource usage.
To know more about Snowflake, visit this link.
Introduction to Snowflake ETL
ETL stands for Extract, Transform, and Load. It is the process by which data is extracted from one or more sources, transformed into compatible formats, and loaded into a target Database or Data Warehouse. The sources may include Flat Files, Third-Party Applications, Databases, etc. Snowflake ETL means applying the process of ETL to load data into the Snowflake Data Warehouse. This comprises the extraction of relevant data from Data Sources, making necessary transformations to make the data analysis-ready, and then loading it into Snowflake.
In more recent times, a variant of the traditional ETL method, ELT, has started becoming increasingly popular. As the acronym suggests, the major difference with the ELT approach is that the data undergoes required transformations after it is loaded into the target database or Data Warehouse. Needless to say, ELT is also a popular approach to move data into Snowflake.
Key Benefits of using Snowflake ETL
In case you are pondering on investing in a new data warehouse, Snowflake is a proven solution that comes with a lot of handy features. Here are some of them:
Decoupled Architecture: Snowflake architecture consists of three layers – storage, compute, and cloud services. Because they are decoupled, it allows for independent scaling up/down of these layers. As a result, it removes any requirement to pre-commit to a set of resources, as is the case with the traditional, unified architecture.
JSON using SQL: The ability to work with JSON data is a lot like querying traditional structured data using a set of types and functions like variant, parse_json, etc.
UNDROP and Fast Clone: Using the UNDROP SQL command, you can bring back a dropped table without having to wait for it to be restored from a backup. Fast Clone is a feature that lets you clone a table or an entire database, typically in a matter of seconds, at no additional service cost.
Encryption: Snowflake comes with many encryption mechanisms such as end-to-end encryption, client-side encryption, etc. ensuring a high level of data security at no additional cost.
Query Optimization: There are query optimization engines that run in the background to understand and automatically improve query performances. This lets the SQL scripters not worry about the optimization practices such as indexing, partitioning, etc.
Factors to Consider while Evaluating Snowflake ETL Tools
There are several plug-and-play as well as heavily customizable Snowflake ETL tools to move data from a variety of Data Sources into Snowflake. Every business needs to prioritize certain things over others in deciding to invest in the right ETL product for its operations. Here are some factors that need to be considered for evaluating such products:
Paid or Open-Source: Cost is always a concern – the choice here would be between in-house custom development or utilizing the expertise of a reputed ETL service provider.
Ease of Use: This can vary from simple drag and drop GUIs to writing SQL or Python scripts to enable complex transformations in the ETL process.
Ability to move Data from a Wide Array of Data Sources: Ideally, you would want one service provider to service all your Data Engineering and ETL needs. Hence, in terms of the number of Data Sources, the more the merrier.
Option for Adding/Modifying Data Sources: Most ETL service providers support a fixed set of Data Sources. In case you need to leave room for custom additions of new sources, you need to make sure that this is an option.
Ability to Transform the Data: Some tools focus on extracting and loading data and may have zero to very few transformation options. Hence, it is important to understand the level of data transformation supported by the ETL product.
Pricing: Price depends on a range of factors and use-cases. It is important to clearly understand your ETL requirements while evaluating different service providers to maximize the bang for your buck.
Product Documentation: Even when reliable customer support is available, it can be useful to have access to detailed documentation for in-house engineers to tweak or troubleshoot something quickly.
Customer Support: Timely, efficient, and multi-channel customer support is quite important in this whole process.
6 Best Snowflake ETL Tools
Here's a list of some of the best Snowflake ETL tools available in the market, that you can choose from, to simplify ETL. Selecting the right tool for your business needs has never been this easy:
6 Best Snowflake ETL Tools
Choosing the ideal Snowflake ETL tool that perfectly meets your business requirements can be a challenging task, especially when there's a large variety of Snowflake ETL tools available in the market. To simplify your search, here is a comprehensive list of the 6 best Snowflake ETL tools that you can choose from and start setting up ETL pipelines with ease:
1) Hevo Data
Hevo Data, an Automated No-code Data Pipeline, can help you extract and load data from a variety of 100+ Data Sources straight into your Snowflake Data Warehouse, Database, or desired destination. With Hevo in place, you can automate the Data Integration process and reduce your Data Cleaning, Normalizing & Transforming time immensely. This Snowflake ETL Tool lets you connect to a Data Source of your choice and leverage Hevo's blazing-fast Data Pipelines to help you seamlessly extract, transform, and load data to build your Snowflake – a Single Source of Truth in a matter of minutes! All this without writing any code!
Hevo offers an entirely Automated Hassle-Free Data Integration offering to deliver your data in real-time without any loss from source to destination. It empowers you to leverage & mine your extracted data to run Predictive Analytics and gain actionable insights with ease!
Check out why Hevo is the Best:
Secure: Hevo has a fault-tolerant architecture that ensures that the data is handled in a secure, consistent manner with zero data loss.
Auto Schema Mapping: Hevo takes away the tedious task of schema management & automatically detects the schema of incoming data and maps it to the destination schema.
Quick Setup: Hevo with its automated features, can be set up in minimal time. Moreover, with its simple and interactive UI, it is extremely easy for new customers to work on and perform operations.
Transformations: Hevo provides preload transformations through Python code. It also allows you to run transformation code for each event in the Data Pipelines you set up. You need to edit the event object's properties received in the transform method as a parameter to carry out the transformation. Hevo also offers drag and drop transformations like Date and Control Functions, JSON, and Event Manipulation to name a few. These can be configured and tested before putting them to use for aggregation.
Hevo Is Built To Scale: As the number of sources and the volume of your data grows, Hevo scales horizontally, handling millions of records per minute with very little latency.
Incremental Data Load: Hevo allows the transfer of data that has been modified in real-time. This ensures efficient utilization of bandwidth on both ends.
Live Support: The Hevo team is available round the clock to extend exceptional support to its customers through chat, email, and support calls.
Pricing
Hevo Data provides users with three different subscription offerings, namely, Free, Starter, and Business. The free plan houses support for unlimited free data sources, allowing users to load their data to a data warehouse/desired destination for absolutely no cost! The basic Starter plan is available at $249/month and can be scaled up as per your data requirements. You can also opt for the Business plan and get a tailor-made plan devised exclusively for your business.
Hevo Data also provides users with a 14-day free trial. You can learn more about Hevo Data's pricing.
Best Suited Use Case
Hevo finds itself in a unique position of offering a long list of integrations while providing the most value for your money. It also provides a quick setup and an intuitive interface to customize your ETL process. it is one of the popular Snowflake ETL tools.
Hevo can help you Seamlessly Extract, Load, and Transform data from 100+ data sources to Snowflake with a No-code, easy-to-setup interface. Try our 14-day full access free trial!
Get Started with Hevo for Free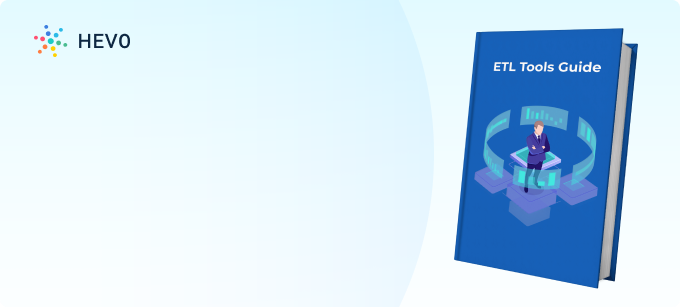 Download the Guide to Evaluate ETL Tools
Learn the 10 key parameters while selecting the right ETL tool for your use case.
2) Blendo
Blendo is a popular data integration tool. It uses natively built data connection types to make the ETL as well as ELT process a breeze. It automates data management and data transformation to get to BI insights faster. Blendo's COPY functionality allows you to transfer data to Snowflake. Blendo provides fine-grained control of access to resources and sensitive data. Blendo integrates and syncs your data to Amazon Redshift, Google BigQuery, Microsoft SQL Server, Snowflake, PostgreSQL, and Panoply.
Key Features
Blendo is easy to set up with no coding required.
It supports more than 45 data sources that include many SaaS platforms, cloud storage, and databases. Here's the complete list.
It offers data monitoring and notification features to get alerted for data pipeline breakdowns.
Customer support is available via Intercom online chat and email.
Product documentation is available as a knowledge base on the company website.
Limitations
The product focuses heavily on the extraction and loading components of the ETL process, hence this tool may not be the ideal choice for use cases involving data transformations.
Users cannot add a new data source (or tweak an existing one) on their own.
Pricing
Blendo offers a 14-day fully-featured free trial.
The basic plan starts at $150 per month. More details on pricing are available at https://www.blendo.co/pricing/.
Best Suited Use Case
Blendo can be one of the perfect Snowflake ETL tools for people looking for a relatively simple ETL service that can be quickly set up to run data loads from a bunch of different data sources. It has one of the cheapest pricing plans available among all other Snowflake ETL tools.
3) Matillion
Another solution specifically built for cloud data warehouses is Matillion.
So, if you want to load data into Amazon Redshift, Google BigQuery, or Snowflake, it could be a good option for you. Matillion ETL allows you to perform powerful transformations and combine transformations to solve complex business logic. You can use scheduling orchestration to run your jobs when resources are available.
Key Features
It comes with two product offerings: Data Loader and Matillion ETL. Data Loader is an easy-to-use, GUI-based cloud solution to load data into data warehouses. Matillion ETL includes data transformation options for the source data before loading it into the data warehouse.
The data transformations can be accomplished via custom SQL, or by creating transformation components using the GUI.
It supports more than 70 data sources that include databases, CRM platforms, social networks, etc. Here's the complete list.
Customer support is available through an online ticketing system as well as over the phone.
Documentation is available as articles tailored towards specific data warehouses as well as for the Data Loader product.
Limitations
Live chat support is not available.
Users cannot add a new data source (or tweak an existing one) on their own.
Pricing
Data Loader is free of charge, and Matillion ETL comes with a 14-day free trial.
The basic plan for Matillion ETL is priced at an approximate annual cost of $12000. Here's the detailed pricing information: https://www.matillion.com/pricing/#matillion-etl.
Best Suited Use Case
Matillion offers the flexibility of two versions of its product, one is free of cost to use. Matillion ETL is relatively expensive however it supports an extensive list of input sources covering all major Databases, popular Social Media Platforms, and an array of SaaS Products. It can be one of the ideal choices for your Snowflake ETL tools if the above-mentioned features are your requirements.
4) StreamSets
StreaSets Data Collector is an open-source software using which you can build enhanced data ingestion pipelines for Elasticsearch. These pipelines can adapt automatically to changes in schema, infrastructure, and semantics. Like Matillion, StreamSets is also one of the Snowflake ETL tools that are available in two versions: Data Collector (focused on moving data from source to destination) and Transformer (to perform comprehensive ETL, powered by Apache Spark clusters).
Key Features
It provides a drag and drop GUI to perform transformations such as lookup, add, remove, typecast, etc. before loading data into the destination.
It allows customers to add new data sources on their own. Custom data processors can be written in JavaScript, Groovy, Scala, etc.
It supports more than 50 data sources including databases and streaming sources such as Kafka and MapR. The full list is available here.
Customer support is available through an online ticketing system as well as over-call.
Extensive product and operational documentation are available on the company website.
Limitations
Live customer chat support is not available.
It lacks extensive coverage of SaaS input sources.
Pricing
It offers a 30-day free trial.
Basic pricing options for this Snowflake ETL tool are not directly available on the company website. You can get in touch with their team to know more about pricing.
Best Suited Use Case
StreamSets is one such Snowflake ETL tool that is particularly well suited for users with a lot of event and file streaming sources. It also provides options for users to make changes to the input sources unlike other completely off-the-shelf products, so this aligns well with teams that can work to technically customize their ETL process.
5) Etleap
It is one of the popular Snowflake ETL tools that provides an intuitive GUI to create data pipelines for extract, transform and load as separate steps.
Key Features
Data transformation can be done via GUI as well as custom SQL.
It supports more than 50 data sources that include databases, SaaS, file and event streams, and BI tools.
In-app and online customer chat support are available.
Limitations
Users cannot add a new data source (or tweak an existing one) on their own.
The company website does not have a separate documentation section.
Pricing
A 30-day free trial is available after a demo with the sales team.
Pricing options are not directly available on the company website. You can request a demo or get in touch with their team to know more.
Best Suited Use Case
Etleap is a nice blend of setting up your ETL using an intuitive GUI as well as providing an option to add your custom logic for data transformations. The company also focuses on communicating its value proposition via product demonstrations. This can be one of the ideal choices for your Snowflake ETL tools.
6) Apache Airflow
Apache Airflow is an open-source Snowflake ETL tool available to download and use for free. It lets people build data workflows as Directed Acyclic Graphs (DAGs) to facilitate ETL.
Key Features
Python code is utilized to add functionality to Airflow workflows.
Technically, it can source from and load data into any system through custom code, or a pre-built module/plugin.
Limitations
Unlike other off-the-shelf Snowflake ETL tools, this is quite a user-intensive involving a lot of scripting and Python code for setup and operations.
Pricing
Open-source, licensed under Apache License Version 2.0.
Detailed online documentation is available for setup and troubleshooting.
Support is available through an Airflow Slack community as well.
Best Suited Use Case
Apache Airflow is a typical open-source Snowflake ETL tool, the use of which involves complex coding for setup. For companies looking to develop and manage a custom Snowflake ETL tool in-house using a fairly mature open-source product, Airflow is worth checking out.
Conclusion
This blog discussed the 6 best ETL tools for your Snowflake Data Warehouse. Apart from the ones discussed above, there are even more Snowflake ETL tools available in the market. This is a clear indicator of a huge market for ETL and that many companies are comfortable in outsourcing their ETL needs to these providers. Companies want to invest more time and resources in running analytics and generating insights from their data and less in moving data from one place to another.
If you're looking for an all-in-one Snowflake ETL Tool, that will not only help you transfer data but also transform it into analysis-ready form, then Hevo Data is the right choice for you! Hevo will take care of all your ETL, Data Integration, Analytics, and Data Ingestion need in a completely automated manner, allowing you to focus on key business activities. It provides a consistent & reliable solution to simplify the Extraction, Transformation & Loading of data into your Snowflake data warehouse and ensures you always have analysis-ready data.
Want to take Hevo for a spin? Sign up for a 14-day free trial and see the difference yourself!
What is your preferred ETL tool to move data to Snowflake? What was your experience of moving data to Snowflake? Please let us know in the comments section.
No-code Data Pipeline Tool for Snowflake ETL