9 Best Python ETL Tools in 2022
ETL is an essential part of your Data Stack processes. It lets you activate the data transfer between systems. A good ETL Tool single-handedly defines the workflows for your Data Warehouse. Fortunately, we have you covered, this blog takes you through different Python ETL Tools available on the market.
Python has been dominating the ETL space for a few years now. There are easily more than a hundred Python ETL Tools that act as Frameworks, Libraries, or Software for ETL. In this post, you will be comparing a few of them to help you take your pick. First, let's look at why you should use Python ETL tools.
Table of Contents
What is ETL Tools?
ETL stands for Extract, Transform and Load. Data is often distributed across a variety of different applications and systems. A Data Warehouse would be required to bring all of these diverse Data Sources together in a digestible format to generate significant insights that can help in business development.
To meet this demand, ETL Tools have been developed. They simplify and enhance the process of transferring raw data from numerous systems to a Data Analytics Warehouse. This could involve Extracting data from source systems, Transforming it into a format that the new system can recognize, and Loading it onto the new infrastructure.
You can give a read to What is an ETL Tool: A Comprehensive Guide, to learn more about ETL Tools.
What is Python ETL Tools?
Python ETL Tools are the general ETL Tools written in Python and support other Python libraries for extracting, loading, and transforming different types of tables of data imported from multiple data sources like XML, CSV, Text, or JSON, etc into Data Warehouses, Data Lakes, etc. Python is a widely used language to create Data pipelines and is easy to manage. Python ETL Tools are fast, reliable, and deliver high performance.
Significance of Python ETL Tools
Some of the reasons for using Python ETL tools are:
If you want to code your own Tool for ETL and are comfortable with programming in Python.
Your ETL requirements are simple and easily executable.
You have very specific requirements that can only be satisfied by using a custom Tool, coded using Python.
Hevo's No-Code Data Pipeline, A Simpler Alternative to Manual Python ETL Pipelines
Hevo Data, a No-code Data Pipeline, is a one-stop solution for all your ETL needs! Completely Eliminating the need for writing 1000's lines of Python ETL Code, Hevo helps you to seamlessly transfer data from 100+ Data Sources (Including 40+ Free Sources) to your desired Data Warehouse/destination and visualize it in a BI tool. With the Source & Destination selected, Hevo can get you started quickly with Data Ingestion & Replication in just a few minutes. All without writing a Single Line of Code!
Hevo offers you a Fully-managed Enterprise-Grade solution to automate your ETL/ELT Jobs. You can leverage Hevo's No-code Data Pipeline at a fraction of the cost of your DIY Python ETL Code. It thereby helps you save your ever-critical time, resources and lets you enjoy seamless Data Integration! No Engineering Dependence, No Delays.
Check out some of the cool features of Hevo:
Secure: Hevo has a fault-tolerant architecture that ensures that the data is handled in a secure, consistent manner with zero data loss.
Schema Management: Hevo takes away the tedious task of schema management & automatically detects schema of incoming data and maps it to the destination schema.
Minimal Learning: Hevo with its simple and interactive UI, is extremely simple for new customers to work on and perform operations.
Extensive Customer Base: Over 1000 Data-Driven organizations from 40+ Countries trust Hevo for their Data Integration needs.
Hevo Is Built To Scale: As the number of sources and the volume of your data grows, Hevo scales horizontally, handling millions of records per minute with very little latency.
Incremental Data Load: Hevo allows the transfer of data that has been modified in real-time. This ensures efficient utilization of bandwidth on both ends.
Live Support: The Hevo team is available round the clock to extend exceptional support to its customers through chat, email, and support calls.
Live Monitoring: Hevo allows you to monitor the data flow and check where your data is at a particular point in time.
Hevo is a No-Code Data Pipeline, an efficient & simpler alternative to the Manual Python ETL approach allowing you to effortlessly load data from 100+ sources to your destination. Save countless engineering hours by trying out our 14-day full feature access free trial!
Get Started with Hevo for Free
How to Use Python for ETL?
Python is a versatile language that users can code almost any ETL process. It depends on the technical requirements, business objectives, libraries that are compatible that which form of ETL tools developers need to develop from scratch. Python can easily handle indexed data structures and dictionaries, which is important in ETL operations.
With the help of Python, you can code and filter out null values from the data in a list using the pre-built Python math module. Most of the time the ETL tool is developed with a mix of pure Python code, externally defined functions, and libraries that offer great flexibility to developers such as the Pandas library to filter an entire DataFrame of rows containing nulls.
Software Development kits of Python, APIs, and other supports are available for easy development in Python that is highly useful in building ETL Tools.
Top 9 Python ETL Tools
In this section, you will explore the various Python ETL Tools. Some of the popular Python ETL Tools are: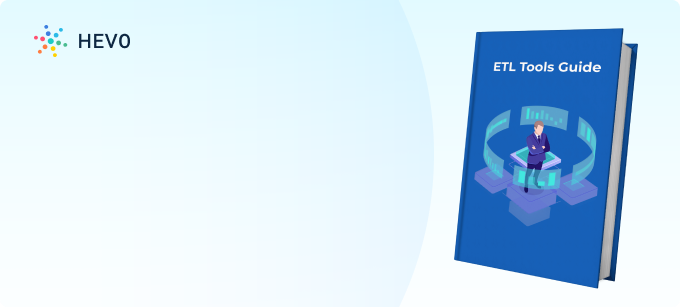 Download the Guide to Evaluate ETL Tools
Learn the 10 key parameters while selecting the right ETL tool for your use case.
1) Python ETL Tool: Apache Airflow
Apache Airflow is an Open Source automation Tool built on Python used to set up and maintain Data Pipelines. Technically, Airflow is not an ETL Tool but rather lets you organize and manage your ETL Pipelines using DAGs (Directed Acyclic Graphs). DAGs lets you run a single branch more than once or even skip branches in your sequence when necessary.
A typical Airflow setup will look something like this:
Metadata database > Scheduler > Executor > Workers
The Metadata Database stores your workflows/tasks, the Scheduler, which runs as a service uses DAG definitions to choose tasks and the Executor decides which worker executes the task. Workers execute the logic of your workflow/task.
Apache Airflow can seamlessly integrate with your existing ETL toolbox since it's incredibly useful for Management and Organization. Apache Airflow makes sense when you want to perform long ETL jobs or your ETL has multiple steps, Airflow lets you restart from any point during the ETL process. However, it should be clear that Apache Airflows isn't a library, so it needs to be deployed and therefore, may not be suitable for small ETL jobs.
One key element of Airflow is that you can easily manage all of DAG's workflows via the Airflow WebUI. This means that you can schedule automated workflows without having to manage and maintain them. You will also be able to execute it using a Command-Line Interface.
2) Python ETL Tool: Luigi
Luigi is also an Open Source Python ETL Tool that enables you to develop complex Pipelines. It has a number of benefits which include good Visualization Tools, Failure Recovery via Checkpoints, and a Command-Line Interface.
The main difference between Luigi and Airflow is in the way the Dependencies are specified and the Tasks are executed. Luigi works with Tasks and Targets.
Tasks utilize the Targets, which are produced by a finished Task. So, a Task will remove a Target, then another Task will consume that Target and remove another one. This allows the whole process to be straightforward, and workflows to be simple. This is right for simple ETL Tasks but not complex Tasks.
Luigi is your best choice if you want to automate simple ETL processes like Logging. It is important to note that with Luigi you cannot interact with the different processes. Also, Luigi does not automatically sync Tasks to workers for you. It does not provide the facility to Schedule, Alert or Monitor as Airflow would.
3) Python ETL Tool: Pandas
Pandas is a Python library that provides you with Data Structures and Analysis Tools. It simplifies ETL processes like Data Cleansing by adding R-style Data Frames. However, it is time-taking to use as you would have to write your own code. It can be used to write simple scripts easily. It one of the widely used Python ETL tools.
However, when it comes to in-memory and scalability, Pandas' performance may not keep up with expectations.
You should use Pandas when you need to rapidly Extract data, Clean and Transform it, and write it to an SQL Database/Excel/CSV. Once you start working with large data sets, it usually makes more sense to use a more scalable approach.
4) Python ETL Tool: Bonobo
Bonobo is lightweight and easy to use. You will be able to deploy Pipelines rapidly and in parallel. Bonobo can be used to extract data from multiple sources in different formats including CSV, JSON, XML, XLS, SQL, etc. This transformation follows atomic UNIX principles. One of the best qualities about Bonobos is that new users will not have to learn a new API. It is especially easy to use if you have a background in Python. It also has the ability to handle semi-complex schemas. One of the biggest plus points is that it's Open Source and scalable.
Bonobo is suitable when you need Simple, Lightweight ETL jobs done, and you don't have the time to learn a new API. One more key point to note is that Bonobo has an official Docker that lets you run jobs within Docker Containers. Moreover, it allows CLI execution as well.
5) Python ETL Tool: petl
petl is an aptly named Python ETL solution. You can extract data from multiple sources and build tables. It is quite similar to Pandas in the way it works, although it doesn't quite provide the same level of Analysis. petl is able to handle very complex Datasets, leverage System Memory, and can scale easily too. The best use case for using petl is when you want the basics of ETL without the Analytics and the job is not time-sensitive.
6) Python ETL Tool: PySpark
From all the Python ETL tools, PySpark is a versatile interface designed for Apache Spark that allows users to use Python APIs to write Spark applications. It is needed because Apache Spark is written in Scala language, and to work with Apache Spark using Python, an interface like PySpark is required. PySpark helps users connect with Resilient Distributed Datasets (RDDs) to Apache Spark and Python. PySpark supports most of Apache Spark's features such as Spark SQL, DataFrame, Streaming, MLlib (Machine Learning), and Spark Core.
7) Python ETL Tool: Odo
Odo is a Python tool that converts data from one format to another and delivers high performance while loading huge datasets into various datasets. It includes in-memory structures like NumPy array, data frames, lists, etc. Users should try Odo if they looking to make simple pipelines but want to load large CSV datasets. It also supports data outside of Python like CSV/JSON/HDF5 files, SQL databases, data on remote machines, and the Hadoop File System.
8) Python ETL Tool: mETL
mETL is a Python ETL tools that is designed for loading elective data for CEU. It is a web-based ETL tool that allows developers to create custom components that they can run and integrate as per the Data Integration requirements by an organization. It can load any kind of data and comes with widespread file formats with data migration and data migration packages. Users can use mETL for service-based Data Integrations, flat-file integrations, Publisher-Subscriber Data Integrations, etc.
9) Python ETL Tool: Riko
Riko is a stream processing engine written in Python to analyze and process streams of structured data. Riko is best suited for handling RSS feeds as it supports parallel execution using its synchronous and asynchronous APIs. It also comes with CLI support for the execution of stream processors. It is modeled after Yahoo pipes and became its replacement and can help a lot of companies to create Business Intelligence Applications interacting as per demand with the databases of customers when connected with Data Warehouses.
Conclusion
In this blog post, you have seen the 9 most popular Python ETL tools available in the market. The Python ETL tools you choose depend on your Business Needs, Time Constraints, and Budget. The Python ETL tools we discussed are Open Source and thus can be easily leveraged for your ETL needs.
Designing a custom Pipeline using the Python ETL Tools is often a Time-Consuming & Resource Intensive task. This requires you to assign a portion of your Engineering Bandwidth to Design, Develop, Monitor & Maintain Data Pipelines for a seamless Data Replication process. If you're looking for a more effective all-in-one solution, that will not only help you transfer data but also transform it into analysis-ready form, then a Cloud-Based ETL Tool like Hevo Data is the right choice for you!
Hevo is a No-code data pipeline having Robust Pre-Built Integrations with 100+ sources (Including 40+ Free Sources). You can quickly start transferring your data from SaaS platforms, Databases, etc. to any Data Warehouse of your choice, without spending time on writing any line of Python ETL code or worrying about maintenance.
Want to take Hevo for a spin? Sign up for a 14-day free trial and experience the feature-rich Hevo suite first hand. You can also have a look at the unbeatable pricing that will help you choose the right plan for your business needs.
Have any further questions? Get in touch with us in the comments section below.
No-Code Data Pipeline for all your Data